Boston College holds off furious NC State rally, wins 91-87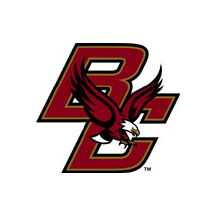 Jerome Robinson made a pull-up jumper with 18 seconds left to break a tie, and then forced a turnover on an inbounds play moments later, and Boston College upset NC State 91-87 on Wednesday in the second round of the Atlantic Coast Conference Tournament.
Robinson scored 26 points and fellow North Carolinian Ky Bowman had 24 for the 12th-seeded Eagles (19-14), who will face No. 4 seed Clemson on Thursday in the quarterfinals at Barclays Center.
The fifth-seeded Wolfpack (21-11) wiped out a double-digit deficit in the final 10 minutes and tied it five times down the stretch, the last on two free throws by Torin Dorn with 40.7 seconds left to make it 85-all.
Then Boston College let Robinson, runner-up for ACC player of the year, take over.
Robinson dribbled away from the screen, left NC State big-man Omer Yurtseven behind and let go with a smooth jumper from about 10 feet to give Boston College a lead.
On the ensuing possession, Robinson was on the in-bounder as NC State tried to get it in from the front court, and got a hand on the ball. Bowman came up with it and was fouled. He made two shots to put Boston College up four.
Markell Johnson cut it to two with 7.3 left, but then he called a timeout when the Wolfpack didn't have one and was called for a technical. Robinson made two more free throws to seal the victory.
Yurtseven had 18 of his 20 points in the second half and Allerik Freeman had 21 for NC State.
#ACCTourney Notes
Boston College (19-14) advanced to Thursday's 2 p.m. quarterfinal game against No. 4 seed Clemson (22-8). The Tigers claimed a 74-70 regular-season road win when the teams met at Chestnut Hill on Jan. 3.
Boston College improves to 10-12 all-time in the ACC Tournament and to 1-1 in second round games … The Eagles reach the quarterfinals for the first time since 2013.
NC State slips to 71-55 all-time in the ACC Tournament and to 2-2 in second-round games … The Wolfpack is 1-1 all-time in tournament play versus Boston College.
A pair of North Carolina natives led the Eagles in Wednesday's win as Garner native Jerome Robinson and Havelock native Ky Bowman combined for 50 points, eight rebounds and nine assists.
Robinson led the Eagles with 26 points, five assists and forced a key late-game turnover. Robinson, who posted his 30th double-figure scoring game of the year, has averaged 19.8 points in six career games at Barclays Center.
With 24 points, Bowman reached double figures in scoring for the seventh consecutive game and the 31st time in 33 games this season …. The ACC's sixth-leading scorer went 6-for-6 from the foul line to key the Eagles' 16-of-19 effort there.
With his career-high 15 rebounds, Boston College freshman forward Steffon Mitchell posted his 10th double-figure rebounding game of the season and his second straight of the tournament … Mitchell led Boston College to a 39-31 advantage on the boards and a 15-8 edge in second-chance points.
The Eagles' Jordan Chatman went 4-for-7 on 3-point shot attempts and now ranks second among ACC players with 84 successful shots from beyond the arc this season …. Notre Dame's Matt Farrell leads the conference with 89 made 3-pointers heading into this evening's second-round game against Virginia Tech.
The Eagles Nik Popvoic followed up his 20 points versus Georgia Tech in the opening round with 15 points on Thursday … A first-half ankle injury cut into the sophomore's playing time on Thursday, and reserve Johncarlos Reyes picked up the slack with 10 points on 5-for-5 shooting to help Boston College to a 51 percent shooting day from the floor.
NC State came up short despite shooting .733 in the second half and making nine of its final 10 shots from the floor.
Allerik Freeman paced the Wolfpack's scoring with 21 points, highlighted by a 5-for-7 effort from 3-point range … It marks the 15th time this season that Freeman has led NC State in scoring and his 13th collegiate game with 20-or-more points.
Omer Yurtseven added 20 points and a team-high nine rebounds while blocking three shots … Yurtseven posted his sixth career 20-point scoring game and led NC State in rebounding for the 15th time in his two collegiate seasons.