Blue Rocks win third straight from Hillcats in final inning
For the third straight night, Wilmington claimed a victory in the final inning of play, plating the winning run on a bases-loaded walk in the ninth to take a 5-4 result Friday night at Frawley Stadium.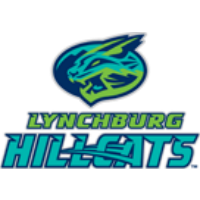 After winning on a wild pitch in the bottom of the 13th on Wednesday and a bloop single in the bottom of the ninth Thursday, the Blue Rocks pushed across the decisive run on the combination of one hit and four walks in the ninth inning. It marked the seventh time the Hillcats suffered a walk-off defeat this season, and the third time in as many games. Lynchburg won the final two games of the Salem series in the last inning, meaning that the Hillcats have played in five consecutive games that were decided in the final frame.
Lynchburg fell behind 2-0 in the first two innings and did not register a hit until the fifth. Ka'ai Tom opened the stanza with a single and stolen base. Two batters later, Connor Marabell hit his sixth home run of the year to tie the game, 2-2. Wilmington immediately recaptured the lead with a Brandon Downes RBI single in the home half.
Trailing 3-2 in the sixth, Willi Castro singled, and Andrew Calica doubled to put a pair of runners in scoring position. Gavin Collins hit a sacrifice fly to center field to give him eight RBIs in nine games since joining the team. Tom drove in Calica with a single to give Lynchburg a 4-3 advantage. The Blue Rocks tied it again with a two-out RBI in their next turn at the plate.
The game remained deadlocked at 4-all until the ninth. An infield single and two walks loaded the bases. With two away, Downesdrew a walk to bring home Colton Frabasilio to end the game. Lynchburg fell to 15-14 in one-run games.
Kieran Lovegove suffered the loss after entering in the ninth inning, while Walker Sheller (1-1) earned the win with a scoreless top of the ninth.
Lynchburg will try to salvage a game in the series finale Saturday at 7:05 p.m. Triston McKenzie (7-4, 2.91) will be on the mound for the Hillcats for the first time since appearing in the MLB Futures Game. Fans can listen to the game live at lynchburg-hillcats.com beginning at 7.
Comments