Big South Men's Basketball Championship seedings finalized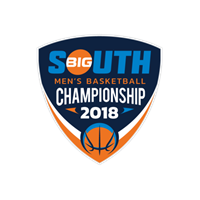 The official seedings and pairings for next week's Big South Conference Men's Basketball Championship are now finalized, and Radford – predicted to finish seventh in the preseason poll – is the No. 2 seed based on its current RPI of 140 through all college basketball games played of Feb. 24.  Winthrop lands in the No. 3 seed as its current RPI is 170.  The teams tied for second in the Big South standings at 12-6, and the tiebreaker procedure reached the final step of each team's RPI due to no advantage in the previous steps.
UNC Asheville is the No. 1 seed and will host the quarterfinals and semifinals March 1-2.  Tickets are now on sale through Asheville's ticket office and at www.uncabulldogs.universitytickets.com.  First round action beginsTuesday night, Feb. 27 with No. 7 High Point hosting No. 10 Longwood at 7:00pm, while No. 8 Charleston Southern will host No. 9 Presbyterian College also at 7:00pm.  The two first round games on Feb. 27 will be broadcast live on the Big South Network and Roku.
The 2018 Big South Men's Basketball Championship will continue with the quarterfinals on Thursday, March 1 and semifinals on Friday, March 2 with both days being carried live on ESPN3 and WatchESPN.  The Championship game will be contested Sunday, March 4 live on ESPN at 1:00pm.  The Big South's Tournament champion receives an automatic bid to the NCAA Men's Basketball Tournament.  The Conference Championship schedule is as follows:
First Round – Tuesday, Feb. 27 – Big South Network/Roku
Game 1: #10 Longwood at #7 High Point, 7:00pm
Game 2: #9 Presbyterian at #8 Charleston Southern, 7:00pm
Quarterfinals – Thursday, March 1 – ESPN3
Game 3: #2 Radford vs. #7/10 winner, 1:00pm
Game 4: #3 Winthrop vs. #6 Gardner-Webb, 3:00pm
Game 5: #1 UNC Asheville vs. #8/9 winner, 7:00pm
Game 6: #4 Campbell vs. #5 Liberty, 9:00pm
Semifinals – Friday, March 2 – ESPN3
Game 7:  Semifinals – Game 3 winner vs. Game 4 winner, 6:00pm
Game 8:  Semifinals – Game 5 winner vs. Game 6 winner, 8:00pm
Championship – Sunday, March 4 – ESPN
Game 9:  Championship – Game 7 winner vs. Game 8 winner, 1:00pm