Bertsch pitches eight shutout innings, as Liberty defeats Binghamton, 3-2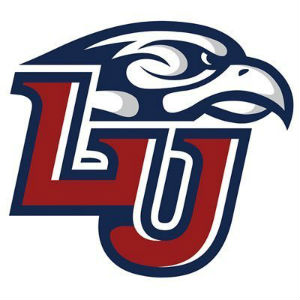 Right-hander Jackson Bertsch held the Binghamton Bearcats scoreless through the first eight innings, helping to lift the Liberty Flames to a 3-2 win, Sunday afternoon at Liberty Baseball Stadium.
Bertsch held the Bearcats to one hit, a double in the sixth inning by catcher TJ Wegmann, and three baserunners through the first eight innings to move to 1-0 on the year. The right-hander ended up allowing two runs, one earned, on three hits over the longest outing of his career, 8 1/3-plus innings. He struck out a career-high 10 batters and walked three in the win.
Right fielder Brandon Rohrer, who had two hits for the Flames, belted his first collegiate home run and third baseman Tyler Galazin hit his first Liberty home run in the contest.
With the win, Liberty moves to 6-1 on the year and takes its three-game series with Binghamton, two games to one. Binghamton, which won the first contest of the series on Friday, falls to 2-4 on the year.
After leaving the bases loaded in both the first and second innings, Rohrer gave Liberty the lead in the third. With one out, Rohrer lined a 2-0 pitch into the right field bullpen for a 1-0 advantage.
In the third, Galazin added to the Flames' ledger. With one out and designated hitter Ayden Karraker aboard on a fielder's choice, Galazin ripped his home run into the left field bullpen, upping the Liberty lead to 3-0.
Unable to move a runner past second base during the first eight innings, Binghamton attempted to rally against Bertsch in the ninth. Center fielder CJ Krowiak broke up the Bertsch's shutout bid with his second home run of the season to open the inning. Two batters later, shortstop Paul Rufo walked and came around to score on a one-out single to right field by designated hitter Jason Agresti and an outfield fielding error, cutting Liberty's lead to 3-2.
Right-hander Garret Price was then summoned for the Flames' bullpen with the tying runner on first and one out. Price induced the next two Bearcats' batters to fly out to seal the Flames' victory and record his fourth save in as many appearances.
Binghamton starter Nick Wegmann drops to 1-1 on the season. The left-hander gave up three runs on four hits over the first four innings. He struck out four and walked four.
Liberty had four hits in the contest, while Binghamton managed three. The Flames committed the only error in the game.
Up next: Liberty takes to the road for the first time in 2018 on Wednesday. The Flames will travel to Elon, N.C., for a contest with the Elon Phoenix. First pitch at Latham Park is scheduled for 4 p.m.