Baylor prevails over George Mason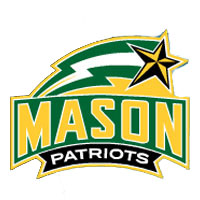 George Mason put together its best defensive effort of the season but could not hit some key shots on the other end, falling to Baylor 72-61 on Saturday afternoon at the Emerald Coast Classic.
The Patriots limited the Bears – who entered the game averaging 78 points and shooting 48 percent on the year – to just a 39.1 percent clip (21-54) for the game. The Green & Gold also held the Bears to 23.1 percent (6-26) from 3-point range and forced 13 BU turnovers. Mason also held BU leading scorer Tristan Clark(16.4 ppg) to just seven points.
Mason led 32-30 early in the second half, and after the Bears opened a 10-point lead midway through the frame, the Green & Gold fought back and cut it to four (49-45) with 8:33 to play. But Baylor went back up 11 (61-50) with three minutes left and closed the game out from there.
"I thought our team played extremely hard and we made some progress down here in Florida," head coach Dave Paulsen said. "We played two very physical, athletic teams and learned a lot from the experience. It was great to see Otis take a step forward today and Jarred played much better. Baylor was a top-50 offensive efficiency team and I think this was our best offensive effort of the season. We wanted to leave with a win, but we're looking forward to having two full practices before our game Wednesday."
Senior guard Otis Livingston II led Mason with a season-best 26 points, made eight field goals and hit 8-of-9 attempts from the charity stripe in the contest. Redshirt-junior Jarred Reuter added 15 points and made a career-best 11 free throws on 14 attempts.
After the game, Livingston II was named to the Emerald Coast Classic All-Tournament Team. He averaged 17.5 points over Mason's two games in the event.
Offensively, Mason executed its possessions well and had a number of open looks which just wouldn't fall. The Patriots shot 36.7 percent (18-49) from the floor and made just 2-of-14 shots (.143) from beyond the arc.
Mason limited Baylor to a 1-of-7 start from the floor as the Patriots built an early 5-3 lead. The Bears stepped up their defense and pushed in front, 12-7, but Mason surged back with an 8-2 run – highlighted by five points from Reuter – to retake the lead at 15-14 at the 7:33 mark. A 3-pointer from Livingston II pushed the edge to four (20-16) with 5:49 to go in the stanza, but Baylor answered with a 9-0 spurt to go up 26-21. Mason scored six of the final eight points of the half to trail by just one (28-27) at the break.
With Baylor leading 30-27 early in the second half, Mason scored five-straight points to build a 32-30 edge. But from there, the Bears responded by scoring 17 of the next 24 points to extend the lead back to nine (49-40) with 10:31 to play.
Back-to-back buckets from Livingston II and Kier cut it to four (49-45) with 8:33 left, but a 7-0 run by Baylor quickly pushed the lead back to nine (54-45).
The Bears extended the edge to 12 (63-51) with two minutes to play and Mason could not move closer than nine (68-59) for the remainder of the game.
Mason returns to Fairfax to host MEAC foe Morgan State on Wednesday at 7 p.m. inside EagleBank Arena. The matchup will be streamed on ESPN+. The Patriots won last season's meeting, 86-79, on Dec. 22 last season.
Comments