Augusta Health nurse honored by VHHA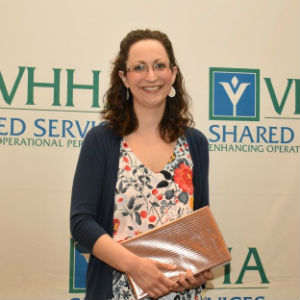 At the Virginia Hospital & Healthcare Association Annual Meeting in Williamsburg in April, Amanda Wilson, RN, BSN, of Augusta Health was recognized as an emerging healthcare leader.
Wilson was one of four young professionals from around the state who received a '4 under 40' award for their work. She is the Medical Quality Coordinator at Augusta Health.
Among her accomplishments is the implementation of the What's UP Patient Safety Program.
Also at the VHHA Annual Meeting, Augusta Health President & CEO Mary N. Mannix was named to the organization's Executive Committee. The Executive Committee includes Chairman Mark H. Merrill of Valley Health, Vice Chairman Dr. Michael P. McDermott of Mary Washington Healthcare, Secretary-Treasurer Steven C. Arner of Carilion Medical Center, member Pamela M. Sutton-Wallace of UVA Medical Center and member John L. Fitzgerald of Inova Fair Oaks Hospital.
Comments