Augusta County Sheriff's Office investigating Stuarts Draft burglaries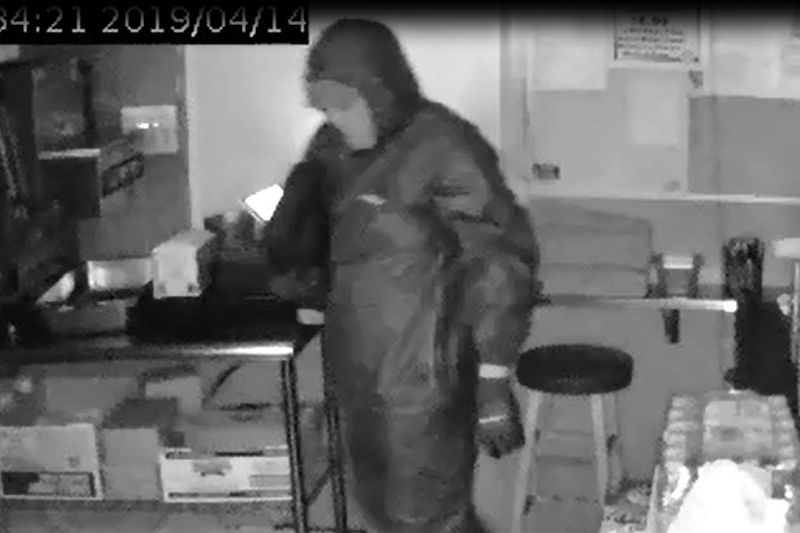 The Augusta County Sheriff's Office is investigating a string of commercial burglaries that occurred in Stuarts Draft.
On Sunday at approximately 8:45 p.m., deputies responded to Sam's Hot Dogs, 2347 Stuarts Draft Highway, for the report of a burglary. Once on scene, it was determined that an unknown person forcefully entered the business and stole an undisclosed amount of cash.
The perpetrator, captured by video surveillance, is believed to be wearing a dark-colored rain suit (with an unknown logo on the left chest), gloves, eyeglasses, and a hat.
On Monday, deputies were dispatched to two more commercial burglaries in the Broadmoor Plaza. The United States Post Office and Micah's Coffee were entered during the evening or early morning hours. Cash and other items were reportedly taken from those businesses.
Given the time and close proximity (two in the same plaza and the third about one mile away) of all three businesses, it is believed that they are connected.
Investigators are working to identify the person in the video surveillance stills, and to confirm that all three cases are connected. United States Postal Inspectors are assisting in the burglary investigation at the Stuarts Draft Post Office.
If anyone has any information about these cases, or knows the identity of the person in the photos, contact the Augusta County Sheriff's Office (540.245.5333) or Crime Stoppers (800.322.2017).
Comments