Augusta County Sheriff's Office investigates purported threat against Wilson Memorial High School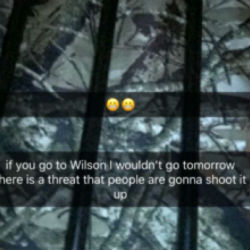 The Augusta County Sheriff's Office spent the night investigating an online threat purported to be aimed at Wilson Memorial High School.
It was determined that the photograph is several days old and was first sent to Wilson High School in Portsmouth, Va.
The sheriff's office says no imminent danger exist to WMHS in Augusta County. The office will have deputies at the schools throughout today as a precautionary measure. The deputies are there to help make students, parents, and staff feel safe.
Parents are encouraged to speak to their children about the very serious nature of making threats, posts, and reposts as students found to have done this will be subject to appropriate disciplinary and legal actions. This includes long-term suspension and being charged with a felony.