Amy Schumer Lite: Trainwreck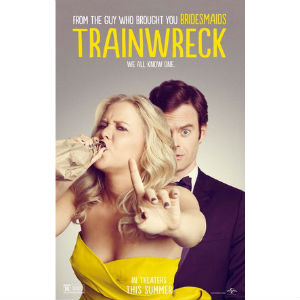 Amy Schumer is the It Girl this summer. Her Comedy Central TV show, Inside Amy Schumer, is hitting an interesting stride (the classic paraphrase of 12 Angry Men being a recent highlight), just as her first turn as the star of a major studio release is hitting theaters.
Trainwreck, from the trailers, seemed a tidy package of everything Amy Schumer. Amy plays a thirtysomething magazine writer assigned to write a cover story about a sports surgeon (Bill Hader) who pals around with the likes of LeBron James and Tom Brady, the idea being that the story would give the mag a ticket into the rarefied air of top-shelf sports stardom.
Only Amy isn't impressed, not being a sports fan at all, to the point that she doesn't even know who LBJ is when she first meets him, remarking only that he is "tall," her focus being more on the executive-editor job being dangled in front of her by her equally clueless and next-level crass boss (Tilda Swinton).
Amy's life, as you would guess from Schumer's standup, is a series of one-night stands with an assortment of dudes who are, like her, not ready to grow up quite yet, around a long-term relationship with her steady, played by wrestler John Cena, who is funny in an extended role as a repressed bisexual who wants to settle down and start a family, and isn't able to wait out Amy's inability to commit.
James is also funny as Hader's best friend, living vicariously, as he says in one scene, through the doctor's developing relationship with the writer, and also playing the multimillionaire who is obsessively cheap, driving 40 minutes out of his way to retrieve $30 sunglasses left behind at the doctor's office, and also walking Hader through an extended debate over splitting the cost of lunch.
Surprisingly, for a vehicle written by Schumer and directed by Judd Apatow ("The 40-Year-Old Virgin," "Knocked Up," "Superbad"), the plot eventually strays away from being a run of crude sex jokes as a storyline develops that has Amy actually maturing, sorta, kinda.
As refreshing as that might be to mainstream audiences, it might be a little disappointing for Amy Schumer fans, who are going to leave the theater thinking that they got a watered-down Amy Schumer Lite in the place of the hard-core Amy that had been advertised.
There are still more than enough highlights to please both the fan base and the mainstream. Hader is solid, if unspectacular, as the nerdy surgeon, and the extended scenes with LeBron James and John Cena are nice vehicles for both to showcase them for additional cameo roles in the future.
And for the Amy Schumer fans, there's always Inside Amy Schumer. For my money, a full-feature remake of the 12 Angry Men sketch should be next on her agenda.
– Review by Chris Graham
Comments