Trending
American Shakespeare Center receives second NEA grant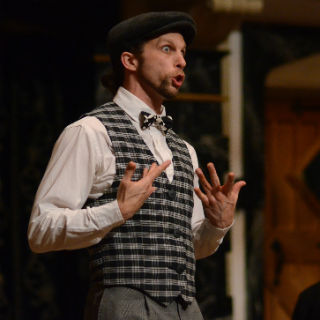 National Endowment for the Arts Chairman Jane Chu has approved more than $82 million to fund local arts projects and partnerships in the NEA's second major funding announcement for fiscal year 2016.
Included in this announcement is an Art Works award of $15,000 to the American Shakespeare Center to support the 2016/17 ASC on tour. The Art Works category supports the creation of work and presentation of both new and existing work, lifelong learning in the arts, and public engagement with the arts through 13 arts disciplines or fields.
"The arts are all around us, enhancing our lives in ways both subtle and obvious, expected and unexpected," said NEA Chairman Jane Chu. "Supporting projects like the one from the American Shakespeare Center offers more opportunities to engage in the arts every day."
"We are so thrilled in our second year of funding to receive increased support from this prestigious program," said ASC Managing Director Amy Wratchford, "and we recognize that the NEA's vital investment allows our nation's arts community to thrive."
The NEA award is specifically targeted to support the 2016/17 Hungry Hearts Tour, which will include three shows performed in repertory: Shakespeare's Romeo and Juliet and The Two Gentlemen of Verona, and Thornton Wilder's Our Town. The tour will travel throughout the United States, performing and providing educational workshops to 21,000+ individuals in performing arts centers, high schools, community centers, colleges, and more, in large cities like NYC or Nashville, and in more isolated rural areas like Texarkana, Texas where residents rarely, if ever, experience professional theatre.
The travelling troupe currently consists of 11 actors and a single Tour Manager.  With this investment from the NEA, the ASC will be able to add a new, much needed position: an Assistant Troupe Manager/Understudy.
To join the Twitter conversation about this announcement, please use #NEASpring16 and #ASConTour. For more information on projects included in the NEA grant announcement, go to arts.gov
The American Shakespeare Center in Staunton, VA, recovers the joys and accessibility of Shakespeare's theatre, language, and humanity by exploring the English Renaissance stage and its practices through performance and education.  The ASC's Blackfriars Playhouse, the world's only re-creation of Shakespeare's indoor theatre, is open year-round for productions of classic plays, which have been hailed by The Washington Post as "shamelessly entertaining" and by The Boston Globe as "phenomenal…bursting with energy."
Founded in 1988 as Shenandoah Shakespeare Express, the organization became the American Shakespeare Center in 2005 and can be found online at www.americanshakespearecenter.com