Allen raises $1M for Senate campaign in fourth quarter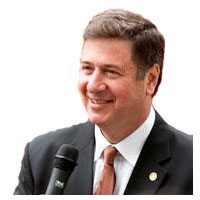 The George Allen for U.S. Senate campaign announced today a strong fundraising total in the fourth quarter of 2012, raising $1,062,132 in the period beginning Oct. 1 and ending Dec. 31.
The end of the year report will show that the Allen campaign raised over $4.5 million in 2011 and will start 2012 with $2,037,405 cash-on-hand.
"Susan and I are greatly appreciative of the encouragement and support we have seen from people in every region of Virginia. The mission of our campaign is to bring Virginia's voices and values to the U.S. Senate," said Allen.
"The continued generosity of our dedicated grassroots team of supporters has put us in strong standing as we move forward to the November 2012 elections.  I truly believe the 2012 election is our generation's 'rendezvous with destiny' and Virginians are energized and ready to bring change to Washington.
"Together, we will continue to fight for the positive, pro-growth solutions that will create jobs, unleash our energy resources, and reinvigorate America's entrepreneurial spirit."