AdvanceVT hosts 2018 Advancing Diversity Workshop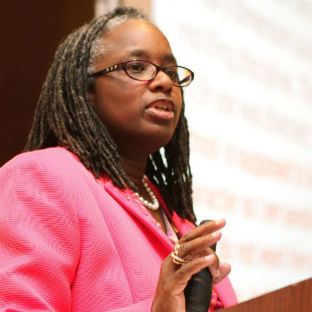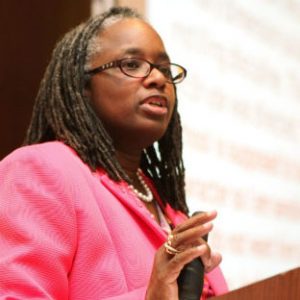 On Jan. 9, AdvanceVT and the Office for Inclusion and Diversity hosted the 15th Advancing Diversity Workshop at The Inn at Virginia Tech. Around 330 Virginia Tech faculty, staff, and administrators participated in the event: a day filled with updates on InclusiveVT initiatives, discussions on the findings of a survey on faculty work life, and breakout sessions on faculty recruiting, pedagogy, mentoring, and Virginia Tech's principles of community.
Menah Pratt-Clarke, vice president for strategic affairs and vice provost for inclusion and diversity, started the day off, serving as keynote speaker. Her talk was titled "The Ut Prosim Imperative."
"My hope is that this semester we'll start conversations as an institution about Ut Prosim," Pratt-Clarke said. "What does it really mean? … How do we understand it? And then how do we truly actualize the vision for who we want to be as an institution?"
Ut Prosim (That I May Serve) represents Virginia Tech's motto.
The talk touched on the Corps of Cadets, a key part to Virginia Tech's identity. Pratt-Clarke presented the idea of expanding the unique college experience and leadership skills the cadets have to the entire student body.
"[The Corps] represents an opportunity to think about it as a potential model for how we ensure that all students have a truly transformational experience and then are prepared to be leaders," Pratt-Clarke said. "It can be a model for a larger conversation for how to prepare students to be leaders."
After the keynote, Assistant Provost for Faculty Development Peggy Layne presented feedback on faculty work life from the Collaborative on Academic Careers in Higher Education, conducted by the Harvard Graduate School of Education. Instructional faculty hired at Virginia Tech before 2016 were surveyed on 25 major themes such as nature of work, personal and family policies, leadership, tenure, promotion, governance, department life, and appreciation and recognition. While parts of the survey focus on issues of concern to instructional faculty, questions about work/life balance, climate and collegiality, and department leadership were relevant for all employees.
"We wanted to use this opportunity to get input from participants on what the university should be doing to address issues identified in the survey," Layne said.
Topics for breakout sessions have varied over they ears, depending on important things happening nationally or locally.
"We felt we had to do a sexual harassment session this year because there's so much in the news recently," Layne said.
The Advancing Diversity workshop began as part of Virginia Tech's National Science Foundation-funded ADVANCE program to increase the number and success of women faculty in the sciences and engineering. The focus of the program has grown to include all aspects of diversity, and serves as an opportunity for members of the campus community to come together to share concerns and learn about efforts to support inclusion and diversity university-wide.
Pratt-Clarke sees the value in bringing people together on a topic so big as diversity.
"I think these type of events can become a catalyst for capacity building and increasing the knowledge, the understanding, the commitment of the community to do this work," Pratt-Clarke said.