ACC Kickoff: Virginia Tech football coach Justin Fuente talks with reporters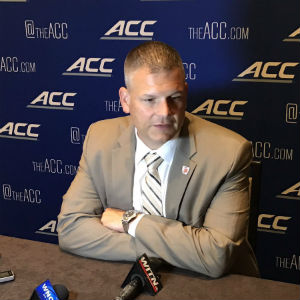 Virginia Tech football coach Justin Fuente talks with reporters at the 2018 ACC Kickoff.
Q. People talk about the holes you have to fill on the defense this year, but special teams you have to fill the long snapper slot, kickoff starter, kicker, and you've also got to fill the punt returner. Who are some people you have in mind to fill those spots?
JUSTIN FUENTE: Well, we hope Oscar Shadley can handle the deep snapping duties. I'm not exactly positive who's going to be our kickoff returner. I feel good about our pool of guys that can go do that, Caleb Farley is a guy that will probably start off back there. When I say start off back there, I mean start practice back there. I think we've got a good pool of guys.
Punt returner to me is the one that we're going to have a little bit of competition to find out who that's going to be. C.J. Carroll is probably the guy that I feel the best about right at this moment. But we've got some other young guys that have not done it in a game that we'll need to get ready, as well. We should have a good competition at kicker to see who actually gets to go out there and kick with two talented young men. I'm excited about what we've got there, it's just a little bit unproven.
Q. Josh had spoken about the fact that the culture really hasn't changed that much from Frank Beamer going to you. Going into your third season at Virginia Tech, 19 wins, eight losses, just what you can say about not every school has that from coach to coach, that transition that seemed seamless and back to success. What has led to that success in your opinion?
JUSTIN FUENTE: Well, people have often asked me about how to follow a Hall of Fame coach, and my answer is pretty simple, is be really careful about the Hall of Fame coach you choose to follow. Coach has been incredibly supportive of us. I think part of the reason we've had success is we've been able to devote our time and our energy on our team, to the development of our team, and not to some of the things that may happen in either corporations or schools across the country when there is a transition. We haven't had to expend energy on some of the distractions you may have when you go through a transition.
I'm not sure exactly what the culture was when Coach Beamer was here. I wasn't in the locker room. I don't know. I know that I've always identified with what they were doing at Tech before I got there and thought it was something that was unique and something that I could kind of understand and identify with.
I would imagine, I don't know this for a fact, but I would imagine that when we talk as a football team, the message is probably phrased differently, but the underlying themes are probably very similar to what they were when Coach was here, and I'm not certainly comparing myself to Coach Beamer, I'm just saying that I think all those things have led to a little bit smoother transition.
Q. I know you lament a little bit the ACC Championship game a couple years ago when you felt like maybe you let that game get away and had a legitimate chance to win it. You've been to, I guess, 25 straight bowl games. Is there a point where it's not enough just to go to a bowl game just to be close to winning a championship and you need to take the next step and compete for a championship, compete to get to the college playoffs?
JUSTIN FUENTE: Well, that's what we're aspiring to, absolutely. I don't know if you're asking me to lead that into now is the time because it's our third year. I just don't believe that you can put these things in boxes, progress in boxes. The third — this has been a different situation than the previous job I had in terms of our progress. It's just different.
So yeah, are we aspiring to that? Is that what we're working for every single day? Is that where we're headed? Absolutely. The time and when those things happen, I'm not certain on.
Q. I talked to your player earlier about Dax Hollifield, one of the highest recruited players in the country last year. Is it the expectation he'll play right away, and it sounds like he's already making an impact on your program.
JUSTIN FUENTE: Well, I have no idea. I haven't seen him practice yet. I know he's been doing our freshman workouts, which they're not even incorporated into the varsity yet. I know he's done well with those. He's a physically developed guy in terms of — he didn't necessarily look like a true freshman from a physical standpoint. He's a highly intelligent player. I would anticipate that he would have the opportunity to play. It would be probably unwise for me to make a blanket statement that he is or isn't before I've ever seen him practice, but I'm encouraged by the feedback we've gotten from our strength coaches about where he's at, and I'm looking forward to getting to work with him.
Q. If I'm not mistaken, I think you're 3-0 against Willie Taggart. You guys crossed paths when you were at Memphis and he was at South Florida. Anything stand out to you about those games and the way his teams played?
JUSTIN FUENTE: No, I've known Willie for a long time. We played against each other. He was at quarterback at Western Kentucky and he was a quarterback at Murray State a long time ago. He was a senior and I was a junior.
And then our assistant coaching paths crossed for two games when he was at Stanford as an assistant and I was an assistant at TCU. And then now as head coaches with him at South Florida and myself at Memphis. But they were always tough, hard-nosed football games.
He's a fantastic coach. He's going to do a great job at Florida State. I wouldn't read anything into the South Florida-Memphis rivalry versus Virginia Tech and Florida State, but he's a fine coach, does a good job. He gets his kids ready to play, and they play hard.
Q. When you're trying to replace seven or eight guys on defense and you have to face a Willie Taggart team, especially his offense week one, what's the biggest challenge for you as a defensive unit being ready for that week one match-up?
JUSTIN FUENTE: Well, I think it would be a challenge whoever we were playing with that many new guys taking the field for the first time, let alone playing on the road, let alone a conference game, let alone somebody with the talented players like Florida State and coached as well as Willie is going to have them coached.
It's a tremendous challenge, but I love it. I think our players will embrace it. They're excited to bust out a bunch of new guys out there, and we'll see how it goes. There's no sense in us just dipping our toe in the shallow end. We might as well cannonball in the deep end, so that's what we're going to do. Our guys will embrace that challenge. We've got to get them up to speed and playing at a high level in a really short amount of time, but we're looking forward to that challenge.
Q. Coach Mendenhall has really been stressing to his players, beat Tech. I know it's early, but I think they think this is their year. How important is it for you to keep the Commonwealth Cup in Blacksburg?
JUSTIN FUENTE: Well, I would say this: I know Coach Mendenhall really well and have a lot of respect for him. But what he says to his team is his business. Kind of like what I say to ours is mine. We understand the importance of that game. We absolutely do. I do as the head coach. Our team does. Our tradition at Virginia Tech understands the importance of that. And when that game — it's time for that game, it's time for us to focus on that game, then we'll focus on that game, and we'll be ready to play.
Q. I was wondering, your first year at Virginia Tech, week 2, you played that big game against Tennessee of course at Bristol, big marquee game early on in your career, Willie Taggart going to do the same thing against your team on Labor Day night at home. What can you learn about your team that maybe you can't learn in a fall camp when you play one of these big marquee games early?
JUSTIN FUENTE: Well, you learn a lot. You learn a lot about your team even if you're not playing a marquee game in the first game. I mean, the biggest improvement you make is between week 1 and week 2.
One of the concerns I have is week 1 we play at Florida State on a Monday night at 8:00 at night, and then we immediately turn around and play our second game that Saturday. So the time when we're supposed to make the biggest amount of improvement has been condensed by two days.
In short, I think you can learn a lot about your team in the very first game. There's just too many things that you can't — that you try your best to simulate leading into the game. But the bottom line is you're going to put some guys out there that have never played, and your job is to train them to respond in the right way, but you're still not positive what you're going to get until you go through it with them.
You can learn a lot about a guy's competitiveness, about a guy's ability to focus and handle adversity in the first football game.
Q. Cam Phillips made so many big catches for you last year, and yet you have a great many returning players on your offensive side. What are the biggest challenges for your offense this year? What do you want to see them do better?
JUSTIN FUENTE: Well, I'd like to see us do a lot of things, without getting into just statistics speak. I'd like to see us be a more efficient offense, be a more explosive offense. I'd like us to have more chunk plays. We've got to continue to create that competitiveness amongst the skill players and the offensive line for playing time, and that comes through depth. And we're in the process of getting that done. I'm pretty excited about that. We're not quite there yet, but it's coming.
That competitiveness leads to better practices and leads to more people playing. But in general terms, what I'd like for us to see — what I'd like to see from us on offense is I'd like — I think we've got to find a way to manufacture some more big plays or chunk plays, either through the running game and the passing game.
Q. We talked about your history with Coach Taggart. The fact that you've played him so many times, do you think you'll be prepared for what he's going to do, or is it one of those things where he has a different sort of cupboard of talent and he has an offensive coordinator from Michigan, a coordinator from Maryland, it could be completely different?
JUSTIN FUENTE: Yeah, I would anticipate it will be different. They'll be doing what they do. I don't know that you'll be able to glean anything from those previous experiences.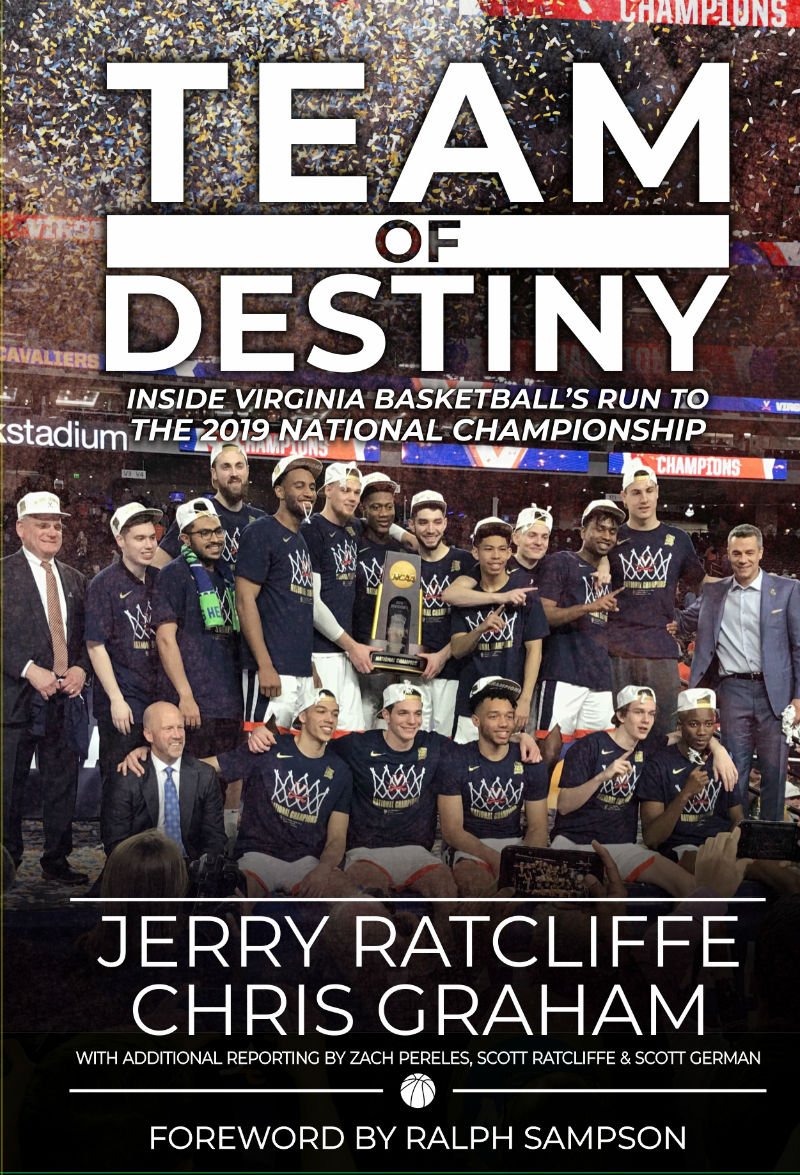 Team of Destiny: Inside Virginia Basketball's Run to the 2019 National Championship, by Jerry Ratcliffe and Chris Graham, is available for $25.
The book, with additional reporting by Zach Pereles, Scott Ratcliffe and Scott German, will take you from the aftermath of the stunning first-round loss to UMBC in 2018, and how coach Tony Bennett and his team used that loss as the source of strength, through to the ACC regular-season championship, the run to the Final Four, and the thrilling overtime win over Texas Tech to win the 2019 national title, the first in school history.

Related Content
Shop Google