ACC Football Press Conference Transcripts
Tuesday, Oct. 27
Frank Spaziani – Boston College
Opening statement: Obviously, we are disappointed (in the loss to Notre Dame) but we hope to put it behind us fast because we have a heck of a football team coming in on Saturday.
On his thoughts from Notre Dame:
It's the same in losses as in victories. (The players) have to figure out what they did wrong and what they did right and learn from it. Obviously, some are harder than others but it's something we have to do. To the naked eye, we did make some strides and we are getting better but once again, we are a long way away and we need to get a lot better. Winning minimizes the mistakes and losing magnifies them. They are always there. 
On BC's five turnovers:
We need to play without turnovers. One is tough to overcome but five is devastating. You can draw from it but it still happened and you have to make sure it doesn't happen again. If it happens again this week then we'll get the same result.
On improving:
We are making progress and we have come a long way and we still have a long way to go but the reality is that we weren't good enough. That doesn't mean we can't be good enough or we aren't good enough but we have to keep making progress. The sooner the better.
On Central Michigan QB Dan LeFevour:
He is what I remember. It was his redshirt freshman year and I remember going out there with a lot of really good football players and he is certainly a very good quarterback but he has help. They have a good defense, good receiving corps and good running backs and they are also well coached.
On overcoming the loss:
You must move past everything but there is a tendency to say 'it was okay' and losing is never okay. It's going to be hard for a lot of reasons and the biggest reason is that they are good. I'm not crying wolf here, this is a very good football team.
On Central Michigan:
They have good receivers and a running back. They some very good players on defense and they seem well coached. They have a very good plan and you have to coach well to survive. The talent is what it is but I'm very impressed with their schemes.
On the rest of the season:
This has been nine games and we need to get through this one and then we have a break. Whatever happens in this one, we'll have some more time. We have to get to six.
__________________________
Dabo Swinney – Clemson
Opening Statement: It was a really good team win last week. I am proud of our kids and how they hung in there. They showed some signs of maturity on the road. We studied the film, and we still have a lot of work to do to become the kind of team and program we want to be.
There are a lot of very teachable things. We must have another great week of preparation as we are trying to finish strong. I was pleased that we had the fewest missed assignments we have had in a long time. On thing I want to say is our scout teams have done a great job for us. They take a lot of pride in what they do and preparing us for this week in particular will be critical for us because of how Coastal plays.
We have to do a good job of preparing for what we have seen and even for what we haven't seen. I just really want to compliment out scout teams on how hard they work. Also it is important to note that we have two great officials that are at practice every single day in Whitey Jordan and Larry Van Der Heyden. They did point out that we are the 11th least penalized team in the nation. Those guys have done a great job for us.
Coastal Carolina is the most important game of the year. We have a good opportunity this week to improve and keep getting better. It is Homecoming. That is always a great time here at Clemson. This is a neat campus to be on during homecoming week. We have Tigerama Friday night. We will be there again this year.
This is a good game for our state. If you are going to play a FBS school I think it is good that it is someone from your state so both programs can benefit from it.
They are a winning program. Coach Bennett is a friend. I have known him for a while. He has done a great job. He was a graduate assistant for Coach (Danny) Ford for a couple of years (1985-86). He has a great coaching resume and has built that program up down there. They won their conference three years in a row. This is a well-coached team and a winning program that takes a lot of pride in what they do.
I look forward to seeing those guys on Saturday. Offensively they are a combination of West Virginia and Florida as far as style of play. They have some veteran guys on offensive line and have some big play capability. I would call them a little unpredictable.
Defensively they are very multiple. They know what they are doing. We will have to be well prepared and play our best football game of the year. I am looking for us to have a great week of practice and play our best game.
Q: C.J. Spiller for Heisman Talk? Swinney: We always to honor roll on Mondays. We honor our players of the game and all our different awards that we give for that game. It just so happened that we had some guys get National honors this week and CJ was one of them. We talked with the team about the fact that we should take pride in having a guy like that on our football team.
Nobody has practiced harder, nobody has sacrificed more and nobody is more "All In" than CJ Spiller. This guy does it right on the field and off the field. He has been a leader and has given his teammates every ounce of what he has had all year long. He has been the first guy in the locker room to be an encourager.
It is not about CJ winning the Heisman it is about us being a great football team. We don't all have our head in the mud here either. This is a great kid and a special football player so we need to enjoy playing with a guy like that and they need to learn from a guy like that.
I don't know what he is going to do the rest of the year, but if he doesn't play another snap this guy should to be in New York to me. He is what it's all about. I want some of these young guys to watch how he works. You want to know what a Heisman candidate looks like? You have one on your team. He is the kind of role model we should all be looking up to. "
Q: What have you learned about players over last couple of weeks? Swinney: They have the right stuff. The right ingredients to build a championship team with. These guys are a very close team, an honest accountable group. They practice well. The biggest thing is watching how they have responded to the good and the bad. We have a great group of kids and it is hard to fall through the cracks the way we have things structured. They have bought in to what we are trying to do and they want to be successful.
Q: Breaks in conference schedule? Swinney: It would have been nice after that first game, but I don't really have much say in those. I would say this is coming at a good time for us. We have all the respect in the world for Coastal. In college football you have to prepare every week, especially when you are going against a winning program that knows what they are doing, like Coastal. They do enough on both sides of the ball to really create some problems. You just can't overlook anybody. As far as the schedule I think this is a good time to do it.
Q: Is Parker's stubbornness paying off now? Swinney: I did know he was stubborn, but I was hoping we could coach it out of him a little bit. How can you not grow from that situation on Saturday. He made some mistakes that would cost you the ballgame in a lot of games, but he made some big plays. He is just like that all the time. He has asserted himself much more as a leader since the Maryland game.
He has ramped it up emotionally. He is paying much more attention to detail. He has had a couple of ballgames where he thinks he can make every play. Lets not compound to a mistake and that is where he has to continue grow. I wanted to try to win the game.
On DeAndre McDaniel: He was hard to recruit. I sure am glad we got him. He has been a maturing kid and I am real proud of him. He is a great player and another one of those guys that I thought we may be better this year than last year with him at safety. He has great instincts. The instincts that make him a great player sometimes can be a negative, but he is a special player. I am really proud of him. He is a guy
that has overcome a lot in his life and appreciates where he is.
On Tight ends It is what we expected coming into the season. Palmer was a real strength for us and I think that has played out. He has caught the most passes in 25 years. All of those guys have done a nice job for us. We have some really talented wide-outs. It has been really good to see the development of Michael. He is not the most talented player but he is like Tyler Grisham. He plays the right way. He knows how to get open with great hands and great confidence.
_____________________
David Cutcliffe – Duke
On beginning week nine of the college football season:
It's week nine of college football and it keeps getting more intense, and I think probably more fun for everybody – players, coaches, fans and media. All of these games get bigger and bigger and bigger.
On the challenges Virginia poses defensively:
We're playing a really good football team this week. People ask me to tell them a little bit about Virginia. When I think about Virginia, and I guess it's because (head coach Al Groh), I think of a really physical defense. This is the hardest-hitting defensive team that we will play. They are loaded for big hits and have very physical players across the board. There's a big front, big linebackers that are explosive, and their secondary is special. It's not a mistake that they lead the conference in pass defense. What a matchup, in that regard. That should be a lot of fun to see where it all falls on Saturday, but we certainly better be prepared against their speed and skill and athleticism.
On Virginia's offense and playing on the road in Charlottesville:
On offense, they've got guys that can take it to the house and are very balanced. They always have a back that can run the football. They got off, like we did, to a slow start, but have played some excellent football as of late. This is a tremendous matchup. This is my first time going up there to Charlottesville to bring a team up there to coach. It looks like it will be a great atmosphere. We're excited about the challenge, but we have a lot of work to do and have to correct a lot of things.
On the challenges Duke will have against Virginia's 3-4 defense:
They have three big defensive linemen that can two-gap – in other words, they do a great job of getting their hands on the linemen, and they can play inside, outside, right, left. I think Nate Collins is terrific. I think he's a heck of a pro prospect and one of the most productive defensive linemen in our league right now, without a doubt. But when those guys can do that, there's so many different looks with these big outside linebackers and big inside linebackers for all the pass rush combinations. I think the 3-4 defense lends itself to being an excellent zone blitz formation. It's not something that we see all that often, though Maryland played us in a lot of three-down formations. It's a little carry over in that regard, but just a little bit.
On improving the running game against Virginia:
We're going to run the ball better. We had a good day today in that regard. I think anybody that looks at us would love to say, 'we're going to try to make you beat us running,' but we've got to try to find a way to stay somewhat balanced. But regardless, we're going to find a way to throw the football. They can try to make it hard and make it a challenge, but that just changes our course of how to throw it. They'll take some things away because they're really good, and that will be a little bit of a chess match like it always is.
On Duke's running backs staying involved, despite getting fewer carries this season:
Our backs are really unselfish. They know we're doing what we've got to do to win games right now. Their role has changed from where we normally are as an offense, but we'll end up getting back to running the ball. They are pass protectors, they are receivers, they're picking up blitzes. They have to be very alert and aware in all of their pass protection responsibilities. They're screen runners, they're screen blockers. Our backs have been special in that regard.
___________________________
Bobby Bowden – Florida State
On playing so poorly in the first half against North Carolina: We had good preparation for the ball game, our kids seemed to really be into when we had all our meetings and everything, and I had even mentioned it to the coaches that they seemed ready to play. Now what caused all the disturbances, the delay of game, the off sides, the dropped balls, the fumbles and things like that because it seems like we had more of them than lining up wrong with our defensive team, because we could not get lined up … Why? I don't have the answer to that.
On if he has ever coached team that had 16 turnovers but still won: No, to be honest with you, now we've had games where we've had a lot of penalties, and to be honest with you some of our best football teams, and this not a plus, some of our best football teams were heavily penalized football teams and my response to that was usually 'well they're so doggone aggressive, they're so aggressive they get penalties.' You still don't want it, but maybe they'd still win. But we've had games where we got penalized, but I don't remember that bad and that awful.
On how important Jamie Robinson's interception was in the North Carolina game: There's no doubt about it, and those are the kind of plays that win ball games and thank goodness we got it, we need more of them. On whether or not it's a good sign that the defense got stops and sacks in the second half: Well if they had not we'd of lost, it they had not we would have lost the game. It's a good sign, now the question is it going to last? On the importance of the win: Well after losing three ball games like they had you can imagine how excited that they were to win this football game, and of course how excited the coaches were, how excited the fans were, everybody. Now if you would have been winning every Saturday, you wouldn't have been excited, but the reaction was very strong just like you'd expect it to be. I've had that happen before, where I've coached football teams and say we're not doing very good, then all the sudden win a game and it's very exciting at that time. On if Ponder's performance in the second half reminds him of any other quarterbacks he has coached: Remember we played Miami, Chris Weinke's last year, they had us down 17-0 down there, we came back and tied it up 17-17, we might have gone ahead of them. And then they took it and made that last minute drive that put them ahead, then we drove back down and missed a field goal. That might have been a similar experience, although this one had more errors in it. I would compare his comeback, matter of fact I thought of it last night, was our comeback against Georgia Tech in 1992 when we joined the ACC and they had us down I think two touchdowns with 10 minutes to go or something like that and Charlie Ward had fantastic last 10 minutes. But he ran more than our quarterback did, Charlie ran a little bit more times, I remember him running for a touchdown of about 15 or 16 yards and running for some first downs, and yet Ponder did the same thing. I can't remember a better performance by a quarterback under that circumstance.
On whether or not he thinks the UNC win can turn things around: Well, the answer to that is, yes it can. But the question is, will it? Did BYU turn things around? No. We had a great doggone ballgame and then the next week got beat – and lost, what, three in a row? Is it going to have that effect? It could, but nothing's a guarantee. So we're just going to see what happens. Again ? the effort of our kids is good. They're running hard, trying hard. But you're out of position and you missed a tackle and you missed an assignment. Those are things that we absolutely need to improve on. On whether or not he was surprised they played so well against UNC's pass defense: There's no doubt about it. I would think that anybody that knows anything about football, and knows anything about the conference, knows anything about North Carolina's defense, would be completely surprised. When we go out there to play them and we've got the No. 1 offense in the conference and they've got the No. 1 defense, we're looking at film of them and we're saying, "How in the world are we ever going to be consistent enough to get some points on this team?" Because they're so good. The first half is what you'd expect. The second half, gosh, you can't hardly imagine that much success. On the win taking some pressure off the program: Well, gosh, it's a weight off of everybody. I think everybody that is an FSU fan or a coach or a player, this takes a weight off the shoulder. But what does that mean? Seven more days of peace? On Lawrence Dawsey's good job coaching the receivers: I think the best thing they've done is catching the ball. And they're running good routes, though sometimes they're not. Most of the time they are. And they made key catches in that ballgame. It seems to me that we've been more successful on third down this year than any time I can remember. He might have hit three or four third-and-longs in a row in keeping a drive alive. But again, somebody has to make the catches. And we had a couple of very good catches, where the receiver got his head knocked off when he caught it.
On the win calming some of the distractions off the field: It's the nature of competitive sports now. Whether it is baseball, whether it is basketball, whether it is football, whether it is any competition like that, the response of the fans is – I know how it is. I know how it's going to be. I know how to sooth it. There is only one answer and that is to win. You have to win. There is where the pressure comes. On Ponder's sideline demeanor when the team was losing: When you look at him on the sideline in a situation like that, you get a feeling of calmness. The guy is calm. He thinks he is going to win. But Ponder, don't you see we are behind 17 or 18 points?' There is still a calmness around him. That's just normal with him. On where Ponder ranks amongst FSU quarterbacks regarding leadership abilities: Oh, I would think he would rank up there with any of them. They are all different. They all have different styles. They all have different demeanors. Charlie is not like Weinke. Weinke is not like Charlie. Neither one of them are like Ponder. Ponder is nearly as quiet as Charlie, but not as quiet as Charlie. Ponder nearly speaks out as much as Weinke, but nearly as much as Weinke. They are all different, but with their different styles and demeanors, they are all winners.
On Christian Ponder's leadership:
Well, Ponder is the heart and soul of this football team. There is no doubt about it. I don't think there is a quarterback in the country that plays better than him right now. I mean you talk about your Heisman Trophy guys, they are playing pretty good but he is playing better than all of them.
On Rod Owens:
Rod has been one of those guys who has done what we asked of him really every game. You can count on Rod. He's supposed to be here, this is where is going to be. Some of the other guys are not doing that, they are getting better at it but Rod is very dependable.
__________________________
Paul Johnson – Georgia Tech
Opening Statement:
I was proud of our guys after the Virginia game. It's another streak that people liked to talk about that our team put an end to. I don't know if we played our best game of the year. You have to give the kids from Virginia a lot of credit, they played hard. But, we did enough to find a way to win the game. Once we got deep into the third quarter, we felt good about where we were. It was a concern that for the second week in a row we started out committing penalties on offense and hurting ourselves by stopping drives. On the first drive, we had a fourth and short that we were getting ready to go for and we jumped offside's. Then, we take it into the end zone and have a chop block that wiped four points off the scoreboard. That's a concern. On the flip side, I thought we did a good job defensively, especially in the first half. We held them and made them kick some field goals. If you can do that [not giving up touchdowns] you usually have a pretty good chance to win the game. All-in-all, we played ok and won the game. It just makes this week's game that much bigger.
On Vanderbilt:
I have a great deal of respect for [Vanderbilt head coach] Bobby [Johnson]. We've played against each other a lot. He and his staff do a great job and they'll have their team ready to play. I think they're a much better team than their record would indicate. They've played some teams close, coming off last week's 14-10 loss at South Carolina. I think they're in the top 25 in scoring defense and they usually don't beat themselves. We're going to have to go on the road to their place and play well.
On the importance of Saturday's game with Vanderbilt, despite it being an out-of-conference game:
I think our football team, to be a special one, has to go out and want to win every game. I can't imagine ever playing a game where you didn't feel like it was important, not me anyway. We hear a lot about the SEC here and there's always comparisons between the two leagues. We have an opportunity this year to play three SEC teams and this is our second one. So, we'll see how we measure up against them.
On worries of the team letting down against Vanderbilt:
I'm not worried about that. I hope our guys are mature enough to realize that Vanderbilt is a good football team. We're playing against the SEC, we're not supposed to be able to compete. It's a chance for our guys to match up with [an SEC team] again. Like I said, I know what we're walking into. I'm sure it's a game [Vanderbilt] feel they can win. Why wouldn't they, they've played everyone on their schedule close. Georgia blew the game open late with some kick returns, but that was a pretty close game throughout. The rest of their games have been close. They played LSU tough in Baton Rouge. They have a pretty good football team. Their record is deceiving, I think.
On success of the offense in the second half of the last two games:
Like I said earlier, in the last two games, we've hurt ourselves early on with penalties. It would interesting to go back and see how many times in the last three or four games where a drive hasn't been stopped by a penalty. I think you would see that it hasn't happened a lot. We've kind of inflicted that on ourselves, which is tough to overcome.
On Virginia Tech safety Kam Chancellor's accusations of illegal blocks occurring in the Georgia Tech-Virginia Tech game:
I don't know, I don't pay any attention to what players say. That game was two weeks ago and its over with. He has his opinion. I think there's more publicity and exposure now; I don't think the officiating has changed. I've said before, I wouldn't want to do their job and I think those guys do a great job. But, they're human, they're going to miss calls just like coaches aren't going to call the perfect play every time. Now, because of all of the TV coverage and the internet, boy if they miss one, it's documented for everyone to see over and over again. There's a lot of scrutiny put on them. There's a lot of judgment calls in a football game that opposing fans are going to disagree on. I think, overall, officials do a good job for what we ask them to do.
On the improvements of the defense:
We're getting a lot closer to having a base system on defense, similar to what we have on offense. You add a wrinkle or two every week and guys get better adjusted to that. You know where weaknesses are, so you know where to tweak it if guys are getting hurt. The last few weeks, we've been better against the run. Virginia Tech gashed us a little bit, but that was on quarterback scrambles for the most part. Virginia had a very tough time running the ball. We've also been fortunate in that we haven't had to run many plays on defense. We've done a good job getting teams off the field and the offense is doing a great job of staying on the field. We're still no where we want to be, though.
On if it is expected that opposing teams will alter play calling early in games in order to get an advantage on Georgia Tech:
I think teams will start doing that. I think we saw a little bit of that on Saturday with Virginia taking the ball first. Most of the time I don't know why we have a coin toss; if we win it we defer, if they win it they receive. I think that people want to try to get ahead. They feel like they get behind the eight ball if we score first. It varies from team-to-team.
On depth of the offensive line:
I think the backups are getting better. The more reps they take the better thy're going to get. They played some snaps on Saturday and they're going to have to play more from now on out. The concern you always have as you get deeper into the year is the depth issue
raises its head. We're playing 11 straight games and our guys have been pushing through pretty good, but their still beat up, as you can imagine. So, we're going to need the backups to play more.
On if things are improving on the recruiting trail with the Yellow Jackets' success on the year, especially on offense:
I don't think there's been any difference. I never really found a problem with it before. I think it was something that people wanted to make a problem and I think its going to be a little harder for opposing coaches to get into a kids ear now. I was happy to see that Demaryius Thomas is a semi-finalist for the Biletnikoff Award, because there goes a lot of the opposing thoughts of "Why would you go there, you can never get any notoriety as a receiver." But, I'm just happy for him because he's worked so hard and he's earned it. Certainly, if we can finish out the year and have a great year, it will probably be positive and help. But, we have all our commitments lined up and had them before the season started.
On being named to the watch list for the Bear Bryant Coach of the Year Award:
To me, that says more about your football team and your assistant coaches than anything else. I've been fortunate to be a part of some really good teams and win some coach of the year awards and those kinds of things. They say more about your players and your assistant coaches than anything else in my opinion.
_________________________
Ralph Friedgen – Maryland
Open date
______________________
Randy Shannon – Miami
Opening Statement: This week we have another conference game on the road at Wake Forest on Halloween night. Coach [Jim] Grobe has done a great job in all of his years there as he has had the ability to bring in some 4th and 5th year players. They lost a lot of guys from last year, but have a lot of veterans on the football team. It will be a test for us to rebound back, go out and play football like we normally do and have fun. This morning we practiced, and it was great to see the guys have a lot of enthusiasm and fly around with a lot of communication. They were doing the things it takes to win games, and I'm kind of enthused to see the guys responding Sunday and this morning to get ready for that next game.
On Wake's good coaching:
All the teams are [well coached]. He does a great job of coaching the players on his football team, and you've got to give him credit for that.
On Wake Forest quarterback Riley Skinner:
Good person, good quarterback. He does a nice job of giving them every opportunity to win games. He's a valuable guy, because he's been there a long time.
On improving the defense's pass rush:
Worked on it this morning. The guys understand what we needed to get done and we worked on it.
On cornerback Sam Shields:
He's done very well for us making some plays at cornerback.
On wide receiver Leonard Hankerson:
He's doing a great job for us. Hank has been a guy here for three years, and you can really see the development and how he has prospered as the veteran of that group right now. He's done a good job of really staying focused this season.
On defensive lineman Allen Bailey:
He's doing a good job for us playing two positions. He'll be playing some defensive end this week against Wake Forest. Personnel decides where he plays. Right now, we have a lot of tackles.He's the only guy that can swing when we have injuries. Curtis Porter, Jeremy Lewis, [Micanor] Regis and we got Josh [Holmes] back this week so that's why he [bailey] is on the outside. We can always switch him around because we are deep at tackle right now.
___________________________
Butch Davis – North Carolina
Opening statement: The only thing that you can do when you have losses is that you have to learn from the things where you made mistakes during the course of the game. It's still a young football team, an inexperienced football team, and so a lot of those lessons they will have the opportunity to carry over for the remainder of the season but certainly throughout the rest of their career.
Rushing for 268 yards in the course of the ball game, we felt like that was a very positive thing. Some of the things that we did defensively in the first half – we really felt like we played well in the first half defensively. The things that we bemoaned at the conclusion of the game were some of the things on special teams. We had three critical errors on penalties in special teams that really put
the offense in bad situations when we needed to be in good situations. We started two possessions at the eight-yard-line and one at the eighteen because of penalties. And it's very difficult to mount huge successful drives [in that position].
The other thing is that we stalled and had to settle for two field goals when we had some really good opportunities to score some touchdowns. You hate the fact of the penalty that called back the one big play. You flip the coin over and you talk about the defensive aspect and giving up the 98-yarder. That's a huge 14-point swing. You go from scoring seven points on an 82-yarder that gets called back and then you give up a 98-yarder.
But I think our kids, as a tribute to them and our coaching staff, the way in which we approached the teaching and learning of the things from those films goes a lot to how those kids bounce back… When they came back Sunday, we jumped right into Virginia Tech and had an outstanding practice yesterday. They were eager to get back to practice."
On what led to Christian Ponder's second-half performance: In retrospect, the depth of the underneath coverage guys allowed some big intermediate plays. Those 15 to 25 to 30-yard plays that were down over the middle of the field where people started to worry a little bit about the possibility of scrambles and stuff. Just drop into coverage, cover your receivers, play your technique and we would have been fine.
______________________
Tom O'Brien – NC State
Q: Can you talk about the open date and what was your focus?
O'Brien: We do what we always do on an open date. We try to get better as individual football players. We spent a lot of time working not only with the older guys but we gave the younger guys an interest, too. They got as many reps once we got to teamwork. We coached the freshmen as much as the older kids.
We worked really hard with the older kids on fundamentals, try to do enough teamwork situations. We ended up with, I don't know, maybe 40 plays, in different situational things with them. The younger kids got as many plays too to try to make them better. So hopefully the scout team will be a little better and we'll be a little better as a football team coming out of the open week.
Q: C.J. Wilson is listed as the starter at boundary. What did you see there?
O'Brien: Well we just feel that he gives us the best chance that we have in the secondary. That was part of last week to try realign the seventh different starting group in eight games. It's been a struggle, but hopefully he'll be the answer.
Q: People seem to be really focusing on Willie Young on your pass rush. Coach Archer said last year they can focus on Willie Young but you have Nate Irving coming on the other side. You don't really seem to have that this year. Anything can be done to counter their protection of Willie?
O'Brien: We have the same structure but we don't have the same guy coming from the other, that's all part of personnel and matchups. I think what teams have done the last couple of weeks is they're either doubling him or chipping him to get out which is to be expected. We got to work hard on the other guys. That means other guys are singled up and they have to get in and make a play.
The idea of moving Willie, we could do that some. We'll look into that, but I don't know if that's the answer to what we have to do. I think the best thing to happen is to try to create some one-on-ones for him, but then somebody else has to step up and rush the passer.
Q: Specifically from the front line?
O'Brien: Right, there's one on ones there and we're just a step away from getting there.
Q: In your first year you had a bye week and the team really took off, is this a similar situation?
O'Brien: No this one is different. The first year we were here we were doing different things with different people and what we were coaching them wasn't what they were capable of doing. We changed some guys position to fit what we had to do to win. That certainly is not the case this year. We know what we want to do. We just haven't gotten the execution out of some of the guys we have to get the execution out of, specifically in third down situations to get off the field.
Q: James Washington is out for the year, how does that impact special teams with T.J. Graham out?
O'Brien: Well with T.J. hurt, he was No. 2. It's just an unfortunate injury Thursday in practice. Concentrate on academics and get ready for spring ball.
Q: How has the team come back after the losses?
O'Brien: We've had good practices. I don't think that they've shown any sense that they're down or they don't think they're capable of doing things. Talking with a couple of kids, they understand what they have to get done. It's a question of making it work and making it happen. It has to come from them. That means us trying to coach them a little better and have them trying to execute a little better, and that's what we have to get done.
Q: What positives have you seen in the first seven games?
O'Brien: I think Toney Baker has been a great positive. He's added a lot to the offensive football team. I think we haven't been as consistent as we'd like to on offense. We have to get that. Obviously on defense, we know we have some situations in the secondary and they're still ongoing. Hopefully we can solve that. The positive is those other kids, they're playing hard. They're giving it all they got, we just got to help them get to the spot they got to get to.
Q: Without Washington, is Barnes the third back?
O'Brien: Barnes is the third back.
Q: Does Florida State remind you of any teams?
O'Brien: They have so much speed on both sides of the ball. They're really skilled on the offensive side of the ball. Ponder, he's having a fabulous year. I think 12-to-1 in touchdowns, only thrown one interception, leads in total offense, second in passing efficiency, so he's really come alive. Certainly they have done a great job throwing the ball the last three weeks, I think 300 yards a game.
Defensively, you put the tape on, the names and numbers change but it looks the same. They've got great speed and great ability to make up ground and get you on the ground. I think they look a lot like they have on defense in the past. Now that Ponder is grown up, they're much better on offense than they were a year ago.
Q: Ponder is already working on his MBA. Russell Wilson is about to graduate in three years. How much does having guys really smart at quarterback help?
O'Brien: I think it helps them immensely because it helps them at that position. There is so much for them to learn and understand. You see two kids kind of grow into their role, understanding what they are supposed to do and how they are supposed to do it. We talked about changes, that's one thing you don't have to worry about and that's always good. You can worry on other issues.
Q: Do you have to be smart to be a good quarterback?
O'Brien: I think so in today's, you don't have to. You don't have to be anything, but it's better if you are smart and talented."
__________________
Al Groh – Virginia
Opening Statement: Well, the subject was brought up last evening, we had a complete flip here in one respect. We're getting ready for a team that has passed the ball more and has used the pass more effectively than anyone else in the conference. Last week we played the team that runs the ball more than anyone is the conference.
So for all the conversation when a team plays Georgia Tech, about the uniqueness of it, you've got to play disciplined. You've got to fit on the plays properly. You've got to do your jobs. Clearly that's the case here once again. You're just deploying the same principles against a different set of variables. Where the probably best continuity of preparation is that the defensive alignments by the two — that the last opponent and next upcoming opponent are not dissimilar. So perhaps there is some good in that given we didn't do a very good job with those alignments 48 hours ago. But to make sure we figure out how to do a better job against those alignments than we did last week.
Q: You weren't able to use the dime as much in the last game as much as you normally do. In this game are you expecting to use it more or put them in on earlier downs?
Groh: Two plays, two plays.
Q: This game, safe to say there should be opportunities because of where they play?
Groh: Well, sure, if we can get them into the third down.
Q: If they pass as much as they do, would you put them in?
Groh: That, against a team like this that always becomes an ongoing situation-by-situation decision. That is do we want to match personnel or do we want to leave the regular in there, because there is an overlap in what we can do from a coverage standpoint between the two. Not entirely the same, but because there is an overlap, we have that option. And in the past in circumstances like this we've worked that option both ways.
Q: Compared to other teams you've played, how sophisticated is this passing game? Can you just elaborate on that?
Groh: Well, yeah, clearly when you see the numbers of their frequency, what that also clearly indicates is that there is a strong commitment and they are a dedicated passing team.
And when you make that decision just as, again, the comparison to Georgia Tech, there is a sophistication in the schemes in which they run, because they know that when certain runs aren't working, Georgia Tech isn't going to say; okay, we've got to start passing more.
They're going to keep running. They're going to either change the particular run patterns that they have, or change the schemes around which they utilize the actual backfield action. Duke is the same way in their fashion. That when they have difficulty passing the game, passing the ball, they don't suddenly say; okay, now we're going to run it 60 times in this game. They say we have to find some patterns that will get open better from the one that's we've been running.
There is that similarity. And as I mentioned, it was going to be very important through the course of the game with Georgia Tech that we got good feedback as to how those patterns and those schemes were changing.
And in grading the video yesterday, for future reference, and just information on the game itself. Recorded all the schemes as well as the plays. So there might have been play A, but there were one, two, three versions of it, and how we have to change up against that.
It will be a similar circumstance here with the patterns against this — obviously the certain fronts that Georgia Tech would want to run certain plays or schemes and there are certain coverages now that Duke will want to run certain patterns against.
Q: What is Thaddeus doing that's different from years past? Even with losing his best wide receiver from last season?
Groh: Well, I think probably a little bit of a question as to whether he actually lost his best wide receiver or not. But he's showing one, the value of being a four-year starter. Those of you who were here to see him in his true freshman year or, I guess it was down there when we played him as a true freshman, will remember it was pretty challenging for him. He had a difficult time that day, as might be expected with a first-year quarterback against an ACC defense.
He's now a fourth-year quarterback with probably in all likelihood more starts than any quarterback in the Atlantic Coast Conference at this current time. So, that certainly shows – not only the fourth year as an ACC starter, but the second year under David Cutcliffe who has great experience and know-how and development of quarterbacks. He clearly has profited by that.
Q: You look at the N.C. State game?
Groh: We look at them all.
Q: But Coach Cutcliffe said that was the greatest performance by any quarterback he's ever coached?
Groh: 40-for-50 is probably the greatest performance than anybody's ever coached. It's probably better than Brady or Manning has ever had.
Q: How about 42-for-58?
Groh: Still, that was pretty good. Still probably not the same percentage (laughing). I guess that was against Florida State 19-10 or 19-6 game, I believe. A Saturday night game. I think that was the one.
Q: Following up on Lewis. It's more than just a quarterback. But speaking about the quarterback position, how much do you contribute the quarterback play to what that program has done the past two seasons?
Groh: It's very significant. Clearly, that that position and, again, there is some interesting — I hadn't really thought all of this out coming over here. But thinking on the run here is another interesting comparison to last week. Josh Nesbitt's in an offense that clearly suits his skills with the coach that knows that offense very well. And he's now in his second year operating that offense. He's certainly elevated his performance from the first to the second year. Thad Lewis is the same way. He is with a coach that really knows the offense and he is in his second year with it and he has really elevated his performance. As a result both players have elevated their teams as well as that position can do.
Q: From a coach's perspective, how long does it take players to forget the loss and move forward?
Groh: To bounce back, I would have to say you have to bounce from every game. You have to bounce back from a win just the same as you do from a loss. And sometimes that's more difficult. Bouncing back from a win. I actually talked to a couple coaches last week and they were really concerned about their team's focus given the success they've had over the last couple of weeks.
One was saying I can tell. And he turned out to be right. He said, I can tell we're making the same sounds, but we don't have the same focus. We're making as much noise, but we don't have the same focus.
So it occurs in both circumstances. In either case, it better be pretty quick.
Q: Last year when you talked about Matt Conrath playing well early and how he was a baseball pitcher, and I forget exactly the correlation made?
Groh: I said he was a big, tall player. One of the things that Matt has is very good leverage, and we could tell that by one of the indicators to that was you can't be a stiff guy ask all up high to be a baseball pitcher. You've got to bend your knees, bend at the waist to get down low and get that delivery. And that was reinforcing to us. Because we never saw him play in person, we only saw him on video. And that was another piece of evidence and reinforcing to us about whether he'd have the type of leverage with the height that we prefer, that he'd have the type of leverage to be able to do the job which he clearly does.
Q: Were you aware that Zane Parr was also a baseball pitcher?
Groh: No, I was not. But I did personally watch Zane play basketball. And was impressed for a lineman what a good — got to make some of sometimes those basketball evaluations a little relative to the positions they played. But for a lineman, he was a very smooth, easy on his feet, adept basketball player.
Q: He pitched at 95 miles per hour.
Groh: Is that right, huh?
Q: Are they a passing team that should allow you some opportunities to get to the quarterback? Is it the type that will allow a pass rush or is it one of those two-step drops?
Groh: Well, any time — I think they've only given up — they've thrown the ball more than any team in the conference, and they've only given up 12 sacks this year or something to that number, 12 or in the low teens. So that is always a function of a number of different things.
But one of the things that we know for sure, even with — even with real good pass protectors if it's in the low numbers like that, the ball's coming out very quickly. Even the very best pass protectors can hold the rush out for so long.
Q: Regarding coach Brandon and coach Prince, how have you seen them progress this year?
Groh: You'd probably have to ask them that. But they've been here for quite a while. I would expect that by now in each particular case that the adjustment has been complete.
Q: Nate Collins was talking a little about his high school team last year, you probably didn't see him in person, but what did some of his games look like?
Groh: Well, the press box wasn't very high. It was pretty close to ground level. Perhaps in some circumstances it looked like maybe a Parent was taking it from the sideline. As Nate well explained it one time last week, as you can he see, a small private, small, exclusive, private school that he went to that there probably weren't many athletes or people of his size like that in school.
So wherever they needed somebody, Coach said can you play there? Even took one week when he said, Nate, can you play quarterback? So that's how he played linebacker, defensive line, offensive line, running back, quarterback. But in our circumstance, before his senior year, Nate attended our camp. Even though I think the position that was on — next to his name when he came in was one of those positions, you know. Linebacker, running back, or whatever.
It was clear to take one look at him that that wasn't going to be his college position. Kind of similar to Zane, and Nate. Or Zane and Nate, in spending a week with them and watching him do drills, athletic ability for a player that was going to be well above the mid-line. We saw that with our own eyes.
Q: Have you ever seen Nate throw the ball?
Groh: No, and I can't say that since I've been here. Most of the time everyone's career you see at least one time they have picked it up and thrown it some. And we can see whether they have any sense. But I can't give you an evaluation on that. We won't be throwing any tackle around passes though.
Q: Mel Kiper said last week that Rashawn Jackson is the best fullback in the country, Has Nate kind of emerged as a guy who can play on Sunday?
Groh: Nate has certainly been exceptionally stellar to the half way mark of the season. He's certainly playing himself into that position. He's probably making a similar move on that, say that Alvin Pearman utilized his senior season to do.
Q: How important is it to stop Duke's rushing game and have a good rushing game yourself?
Groh: Yeah, the statistics on the Maryland-Duke game are pretty interesting in that the two teams combined for less than 100 yards rushing. So good defense, more passes, whatever. Certainly the passing game was a major component of that particular game, obviously, to go 40-or-50 in their previous game against N.C. State was the same thing.
So they can't afford to let that one go, obviously. It's more of a distraction than it is an issue. The big issue is finding what we can do to slow down this on-target, precision passing game.
Q: Nate made a lot of plays in his first three years with the program, but he really seems to come into his own this season and particularly in the last two weeks.
Groh: Yeah, he has. He's made plays, he's made a lot of those plays on an overall athletic ability. But, the efficiency of how he plays his position from play-to-play is dramatically upgraded. And that's why we probably all remember plays that he made, you know, just as your citing. Probably remember plays that he made. But, have not seen the kind of production numbers that we're seeing this year.
Q: Obviously, there are a lot of tackles in that game the other day for your guys, a lot of guys have tackle totals. Parr has 12 stops, what kind of game did he have?
Groh: Very good. Very good. I don't want to be redundant to those fellows who are on the conference last evening. But as we discussed last evening — as we discussed last evening, two pretty significant changes for Zane in a week's time. One, he went from being primarily a dime player and a back-up at left end, to playing 44 plays at right end. Then all of a sudden, he's back to playing every snap of the game at left end.
So it's a very positive thing. And we're well impressed with his versatility, his adaptability to be able to do that.
As we've talked about a lot of times in the past, any time a player can go from side-to-side, whether it's right guard to left guard, or left end to right end, that really gives us the equivalent of two players and gives us a better option.
So if you back up left end is the third-best left end, then he's also your back-up right end instead of having to put in your fourth best end because he's just a right end. So really showing that developing, and as we come into this phase of the year, that's a real plus for us.
So he we now have Nate who can clearly play nose. And we have Zane who has played left and right, and actually a little bit overlooked here is that we've got a very nice performance from John-Kevin Dolce who moved from nose to right end.
So now in certain circumstances, he gives us more flexibility and adaptability there.
He didn't have the kind of numbers that the other two did, but he certainly gave us a very positive performance a.
Q: Seven tackles is normally good for 79 defensive plays?
Groh: But he did a nice job. There was very little, there was one play early where he was in the backfield and had a chance for a negative play on the quarterback and Nesbitt alluded him. But, there are really very few plays in the game that you could realistically or honestly say, oh, gee, we wish somebody else was in there other than John-Kevin. He did a nice job.
Again, not to wear it out, but those two players stepping up and being the next guy in there at their spots, they've performed like a starting player is supposed to. That's why we don't make too big a deal out of it when we don't have somebody in there.
Q: Are you a coach who scripts the first few offensive plays and what value is that first offensive possession for the tone of the game and the confidence of the offense?
Groh: When it works and you win Zach, you say that first possession really set the tone, when it doesn't work and you overcome it and you win, and you say it really wasn't that important, but any positive possession clearly is important. Not just the first possession, but the avoidance of three-and-outs is really something that any offense wants to do, wherever he they come. You know, it's over before you know it.
So I think that's something that really is just the beginning for, and how you put together your first and second down calls as a lot to do with that whether you just package. Here's our series of first and seconds. Or here are 15 in a row, whatever.
Bill Walsh was really the architect of the scripting of the plays. His theory was it's just a lot easier to think on Wednesday than it is in between plays. That in a lot of cases it didn't make a lot of difference what the plays were. It's just they were already on paper and it was easier to read them than think them. And sometimes they had a realistic purpose, and sometimes the purpose it was just easier.
We've done that on occasion. And some teams the 15 plays is just a number they've just thrown out there. I've known some guys who some weeks, not every week, I've known some guy who just said I'm going to script the whole first half.
And you have to get off of that when you're in situational play. If it's 3rd and 1, and you have a double seam call, you're probably going to make a 3rd and 1 call. Then they get back on the script. You get in the red zone, you get off the script, but you might have a red zone script. So I know some guys who have just scripted the whole first half. No matter what the outcome of the previous play was, no matter what play 14 did, they're calling play 15.
Q: You have talked a lot about Lewis already, but what kind of things are their receivers doing well now? They have two guys leading the conference in receptions at this point.
Groh: Well, they lead in receptions because they're playing in the Duke offense. If they were playing Georgia Tech, they'd probably not be leading the conference in receptions. They run very precise routes. They're where they're supposed to be. It's a timing, precision, passing game which requires that receivers have the discipline to be at the spot, at the time as much as having raw skill.
To do that, there could be some guys who would be blazing fast guys, but if their routes are being run at 18 where they're supposed to be run at 14 or vice versa , then it dramatically effects the rhythm and timing of the passing game that's constructed such as this one. So that's what they do a very nice job with.
Q: You talk about another offense. What's their defense do that your offense is going to have to exploit?
Groh: They're a four-three scheme. Over, a little bit under, but mostly over. Matched man-for-man in zone. Not that that's traumatic, but we play some teams play little to no man, this is a team that plays more man-for-man. Now that creates a different circumstance for receivers, now it's up to them to win one-on-one.
Now if you win, you usually get a big return on it. But you can also result in the quarterback having to hold the ball and not be in the rhythm that he wants. Coaches are certainly this way. I'm certain some people say hold it, don't hold it, throw it, throw it. Sometimes if you have effective man-for-man coverage, there is nobody to throw it to. That would be the dilemma for the quarterback.
What do you want me to do with it? There is nobody open, and you don't want me to stand there I understand that. I don't have anybody to throw it to, either. What should I do with it? So we're going to get a good combination of both.
Q: After the game Saturday Nate mentioned last year's game in Durham. I don't think you are a coach who likes to use revenge for motivation. Do you have any problems with your players going over past games like that? Would you discourage that?
Groh: I remember the results of most games that I've been involved in.
Q: Is there really that much time to make that many adjustments at halftime?
Groh: There are certainly some that there is the opportunity there to be made, but there is a lot — very frequently what happens at halftime is whatever adjustments were made during the course of the first half are just confirmed and more clearly defined for the players. Frequently those adjustments have to be made on the run, often in between — often during the course of the series when you don't have a chance to talk to the players.
But you change your play selection. That's more the case on defense than it is offense. Okay, here's something that just a lot of offenses do, is they'll package their plays by series. Okay, in this — in a lot of game plan will look literally like a box.
They'll have boxes on the sheet; okay. Just like a package. And in box A … okay, these are the players that are going to run during this series. And in box B, these are the plays they're going to run during that series. And the intent of that is to stay one move ahead of the defensive team.
So if they ran a package of play B in this series, and the players come on off, and the coaches are discussing the series with the players and making adjustments about what just occurred, well, that's not going to occur in the next series because they're going to box C with a different package of plays.
Now after while, those things tend to recycle. But early in the game, you know. So once you see by a series on the sideline, what's going on, sometimes you have to change the whole style of calls that you're making on defense. And then come off and tell the players why you did it, and the next time this happens, this is what we're going to do.
So, obviously, that takes some adaptability on the part period of the players to have that happen during the course of the season. I'm sorry, series. And if not, then it occurs on the sidelines there. We've had some teams that were particularly good at that. I think I've cited, I remember citing some examples with the team in '07 and there were two or three circumstances where we put some things in on the bench that we hadn't put in yet that year that we had added in previous seasons. And that group was, look, fellas, this will take care of this situation for us.
Can we do this? And can we do this? We can do this. Or I'm not comfortable with that. Just give me an honest answer. So you've got to know how well the players can adapt to that, and whether you should make changes in between series.
Those things then get a little more confirmed at halftime, not necessarily because they're different, but because you have a more settled, more extended circumstance to explain these things to the players. Here's what we remember. Here are the adjustments we've made during this series. Here's why we're going to continue to do that. Okay, is everybody clear on what we're doing?
Okay, now I'll use Phil Simms as a reference. Phil Simms in his book writes he can't remember a meaningful halftime adjustment that was made. Okay. Now this was with some real good coaches on some real good teams. So he's obviously not saying I didn't have very sharp coaches. He's saying in his book "Sunday Morning Quarterback", which is a good read; okay. It's a fun read, and it's a good football book, too. He writes, "I can't remember when a half time adjustment was really meaningful."
I guess that kind of negates the commentators making great half time adjustments speech, right?
Q: For Jameel, playing from behind and having to throw almost every time, how does that change his role?
Groh: I don't think it changed his role at all. It just created greater frequency. We were looking for and will continue to look for a far more productive performance from everybody associated with the offense.
Q: The last game had injuries, but much has been made about Georgia Tech and taboo subject, chop blocks, was Aaron Clark's injury any result of that or was it just kind of normal play?
Groh: No, actually, Zane Parr leg whipped. Zane came off a block very nicely. Looked like he was going to come off. He really came off and made a good play. He came off and tackled the player, one to two yard play, and as he came down, he leg-whipped down.
Q: Is it likely that Nick Jenkins will return to his normal role this week?
Groh: It is. You know, that was just one of those cases where the particular style really fit one player's game. And that particular style didn't fit the other player's game as well. But Nick's done a real good job for us. And, actually, as we discussed on Saturday we might not have been in the same situation last year if Nick hadn't sprained his ankle at the end of the North Carolina game, and was unavailable for are the Georgia Tech game. So, Nate moved up and did a terrific job. It would have been foolish to not take advantage of that again.
Q: How did Conrad play last year?
Groh: He played very well. He played very well.
Q: Do you see — you see a lot more tape than I do, but is it common for the long snapper to be one of the first ones down the field and be the guy to make the tackle or save the ball?
Groh: In this protection scheme it often is. It was an advantage we were discussing last week. And some of the advantages of the scheme and one of the things that allows all the protectors to be moving forward into the protection rather than backing up as the NFL style spread punt does and allows everyone to get out faster. And Danny tries very hard to take advantage of that.
Q: Are there reviews with him going over the line?
Groh: It was close. But in college football, you can be in the end zone and still get credit for downing the ball. In the NFL, if the players are in the end zone, and the ball is on the field, it's still a touchback. College football for players in contact with the end zone, but the ball is not, it's a legitimate stop. Not only did he get to the ball early, but he had the presence of mind to try to flip it backwards. So it was a very head's up, situational play.
Q: I can't imagine the special teams unit has had the amount of game-changing plays that you envisioned entering the year. What needs to be done for more of those?
Groh: Well, it's not exactly the same exact thing. It carries the same weight as the quarterback position. The major thing is your specialists have to have an outstanding performance. That is kickers and returners on two of the three units, let say we're not shooting par, and we're looking for a much-upgraded performance in punting the ball and kicking off. Robert's done a nice job with the placements. And Drew Jarrett has done a nice job in his role. And we need a more dynamic performance out of our return guys. We've got to get them a lot more help.
The coverage units have been here ever since the mess with that one kickoff return with Southern Mississippi, ever since then they've done a relatively decent job. The punt coverage unit has done a decent job. But the return guy has got to pick it up.
Q: Where has Duke come in the last couple of years under David Cutcliffe?
Groh: As we understand it, the school has upgraded its commitment to being successful in football, that's always part of it. And it's usually, it's more than just the coach. They've upgraded their commitment to being successful and done some things in that direction.
You know, David was very successful in a very challenging conference when he was the head coach at 'Ole Miss. And probably was unjustifiably released from that position. He had his team in the Cotton Bowl. I think they won ten games or whatever they did.
So he's a quality coach. Knows how to run a real good program. It was expected, and he had a positive attitude, but demanding standards. He's done a very good job with their team. We're very respectful of it.
Q: What did you see of the 'phantom' personal foul called on Saturday?
Groh: What we had suggested is that for anybody who has — most people Tivo the game in order to go back and take a look at it and write your stories based on what you see there. So, I just suggested that everybody look at their Tivoed version and come up with your own opinion. And if you have any questions since clearly I'm not the expert on this. If you have any questions, I'd suggest that you direct them to the ACC office and see what they might want?
Q: Did you direct any questions?
Groh: I have the same question you might have. I guess Halloween was one week early. You know, Ghostbusters or whatever.
Q: You were talking about the returns. One of them just got buried – is that the blocking or something else?
Groh: We took a look at that group-wise yesterday. That was kind of an embarrassing moment for some of the other people who are on the field with the returner at that time.
But I think he had one of them. I know Perry Jones had one.
Q: Couple years ago there was a season where you had a lot of dropped balls. It didn't seem like you had many dropped balls in the first six games. Obviously some challenging conditions the other day. Do the receivers need to help out Jameel because he's not a 70 percent passer?
Groh: That definitely falls within that earlier statement about we're looking for increased performance from everybody associated with the offense.
You know, Zach, I think was on the right track here last evening. It's not the only part of it. But against the two teams that we played that are Top 12, Top 10 teams. Georgia Tech and TCU, scoreboard-wise, we were in pretty decent shape at the half. Had the numbers down in yardage and had the numbers down in points. In both of those games, when we got over, and they were both pretty rugged games. And both of those games we started to get into the 55, 60-play count is when some of the creases started to show up.
We've got to make more first downs. We've got to be more productive. We've got to get better field position either to start our offensive series as a result of these punts that aren't going far enough or these returns that aren't long enough, or a better starting position for the offense to do something with it. Then even if nothing happens with it, then they'll punt it further down the field than what we are.
And that field position would help the defense. It certainly sometimes inhibits some of the things that the opponent offense can do. But if we can sit them down there for a little bit longer and not get that pitch count up there so high, but that certainly has to be a factor in there. I mean, that's — that's not something that you like to take out, or sometimes necessarily from our standpoint acknowledge.
But that's the body is built. These guys are college football players, not members of the Marvel Comics family. They're not super heroes and they wear down. And they have energy lapses like all people do. So I think there is certainly some significance to that. And that's an important issue that we have not been oblivious to up to this point. It's just putting an explanation, another explanation point behind it here.
Q: You have had injuries at running back this year, and how much of an advantage is it having the running game going, especially the production?
Groh: Yeah, you're right about the fact that we have not had the continuity of the back that would be preferable. You know, Jackson wasn't available in the first game. Simpson made a cameo appearance, both coming off their training camp injuries. Both of which were freak injuries. We're very enthusiastic about getting Wallace into the mix. He only was able to give us that one game. And Simpson had his issue again.
So that's not just in the games itself, but obviously in those circumstances, they miss practice time, and so probably that's a contributing issue, but I would still like to make the answer be that if the holes were bigger, most anybody could run through them.
___________________________
Frank Beamer – Virginia Tech
Opening Statement: I think in North Carolina, you have a very talented team. Some of them are young. But you look around there, and they've played extremely well, particularly in the first half of the Florida State game. A lot of misdirection in their offense. On defense, you look at their front four, really their front seven, and they're tough. They're very, very good. And in the secondary, they've got juniors playing, so they've got some experience there. I think we've got to get ready to play each and every week in the ACC, and that's for sure this week. On the off week for the Hokies: I thought it was good. We had good practices. I thought the rest was good. We came back and practiced good on what we call our Monday-Tuesday practice. So yeah, I think it went OK. But we'll see how we play Thursday night. That's the determining factor. On UNC's passing struggles: I think what you've got is some new guys there in the offensive line, so you have some inconsistency there. But they're getting better all the time. You've got some young wide receivers, so you've got some inconsistency there. But they're getting better all the time. So I see this as a team that continues to improve and has a lot of talent. On Stephan Virgil's heath: I think the rest (helped), and he's been working with Mike Goforth, our trainer. I think resting him during the week is something that has helped Stephan out quite a bit. On using the bye week to self scout: We always self-scout. We want to know what the other team knows and try to change up things from week to week so you don't form a tendency that carries over throughout the season. We're always doing that. On what he says to motivate his team at this point: Go get ready to play North Carolina. There's a lot of football to be played. You've got your BCS standings. You've got your conference situation, and there's just a lot of football to be played. What we can control is how we prepare and how we play against North Carolina. So that's the key thing for us right now, to put all our efforts toward North Carolina. On what he saw in college football during his off week: Again, there are surprises every Saturday. You've just got to go play a game. Nebraska turns the ball over eight times (in a loss to heavy underdog Iowa State) and I think five of them were inside the five. You just never know what's going to happen. In sports, you better just keep playing yourself, be as good as you can be yourself, and then see where you stand at the end.
_______________________
Jim Grobe – Wake Forest
On the team morale:
Our guys are OK. We've had a couple of tough losses. The way our guys bounced back effort-wise at Navy, we played hard, we just didn't play well enough to win. I told our players I couldn't fault their effort, we just didn't make enough plays. Our guys are hungry to win a football game. There's nobody that's lost their focus. They are anxious to get back at it.
On players that performed well during the last few games:
We're really pleased with Dominique Midgett, he's played really, really well, maybe better than we expected. We expected him to be in the mix and to be a factor for us, but he's turned out to be a real bright surprise for us.
On the Wake Forest's recent losses and the upcoming schedule:
We've played all good teams. We've got four of the better teams here at the end of the schedule. We knew going in it was going to be a tough schedule. We've played pretty good football, we've won some games, but we've also lost some really close games. For all the effort we've put in we probably haven't gotten a lot of bang for our buck.
On Miami's strengths:
You hear a lot about their speed, but it's often overlooked how physical they are. They like to run the football out of the I formation, their offensive line is really big and physical. Defensively they've got the great foot speed but they are also a really tough football team.
On Miami being one of the top teams in the nation:
They look like it on film. I've got a feeling they are going to look even better in person. They might have had as tough a schedule starting the season as anyone in the country. This is a really impressive football team. Anytime you ranked in the top 20 in the country you've got a lot of good players.
On being intimidated by Miami's reputation:
I don't think it's intimidation, it's just respect. When you watch them you realize that they are not only very talented, but they are really well coached. This is a fine football team. That's what stands out to you.
On Miami quarterback Jacory Harris:
He's got a lot of guys to throw to. But he's also got a big physical offensive line and they do a really nice job running the football. He's got as good a touch as any quarterback we've seen so far. He's got a live arm and can go down the field, but he really puts it where it can be caught. The thing that really helps him there is their front not only protects well for him, they run the ball so well that you can't just dial up blitzes to put pressure on him and hopefully help you in the throw game. They do a great job running the football.
On Miami's improvements from last season:
They're better offensively. They've opened things up a little bit. They've got a nice mix of run, pass; they're a real physical defense that flies around. This is a team that had young players last year, they still have a lot of young players, but now they have a year of experience under their belt. Cory Harris is the biggest difference, he's really making them go and he does a great job at the quarterback position.
UVA Basketball Fans!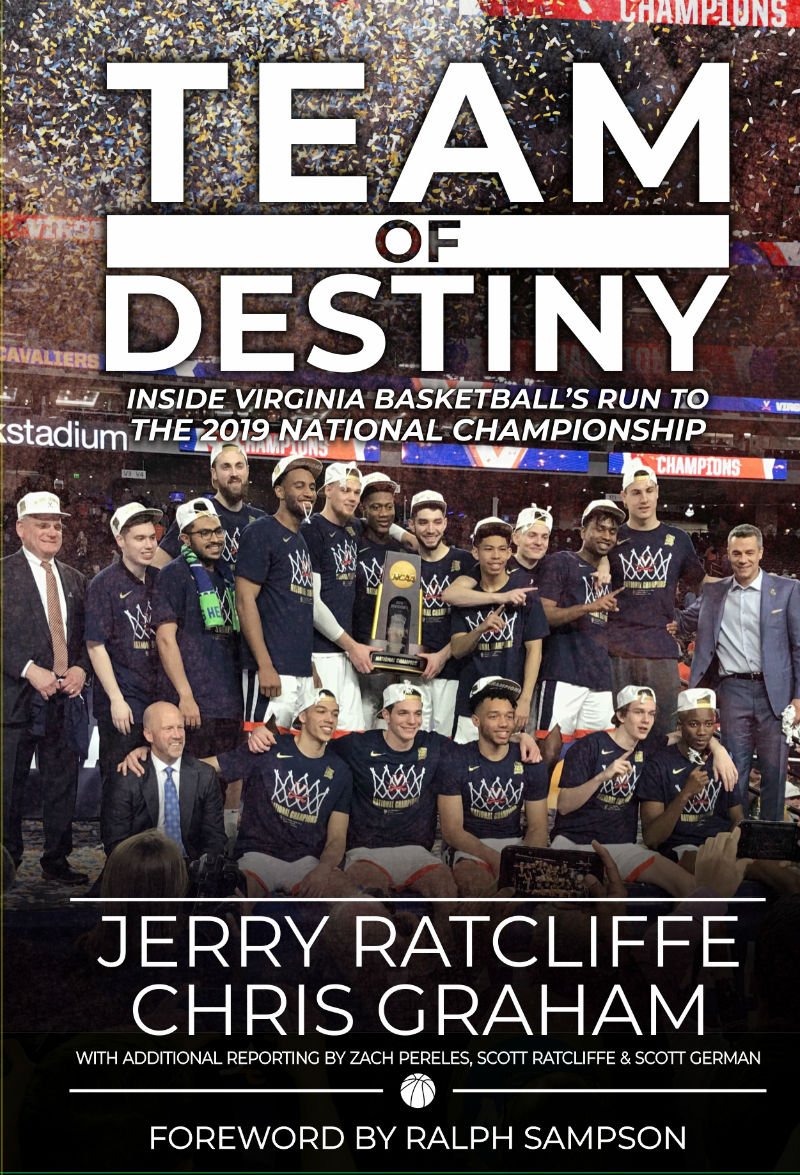 Team of Destiny: Inside Virginia Basketball's Run to the 2019 National Championship
, by Jerry Ratcliffe and Chris Graham, is available for $25. The book, with additional reporting by Zach Pereles, Scott Ratcliffe, and Scott German, will take you from the aftermath of the stunning first-round loss to UMBC in 2018 through to the thrilling overtime win over Texas Tech to win the 2019 national title, the first in school history.
Dick Vitale on Team of Destiny:
"This is a hoops story you will LOVE! Jerry and Chris capture the sensational and dramatic championship journey by Tony Bennett and his tenacious Cavalier team. UVA was Awesome Baby and so is this book!"
Ralph Sampson on Team of Destiny:
"Jerry and Chris have lived and seen it all, even before my time. I highly recommend this book to every basketball fan across the globe. This story translates to all who know defeat and how to overcome it!"
Feedback from buyers:
"Got the Book in the Mail Saturday, and could not put it down! Great read and great photography as well! Love all of the books I've received, but hands down, this is my favorite!" – Russell
Buy here.
Comments