AAA: What's up with falling gas prices?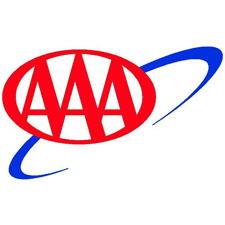 Gas prices continue to dip across most of the country, including the Mid-Atlantic region. The average gas price in Virginia on Sunday morning was $2.35 per gallon, down 88 cents per gallon from a year ago.
What the heck is up with the recent trend in falling gas prices?
"Crude is now trading in the low $40s, which has enabled pump prices to move lower," said Martha Meade, Manager of Public and Government Affairs for AAA Mid-Atlantic.  "Yearly comparisons continue to show significant discounts in the average price for retail gasoline. As long as the commodity's price holds steady, or moves lower, motorists can expect to see further relief at the pump leading up to the Labor Day holiday."
Gas prices in the Mid-Atlantic region should not see much in the way of an increase even as the Midwest deals with refinery issues and sharply rising averages. The monthly average price of crude oil currently accounts for approximately 40 percent of the price consumers pay at the pump, and with WTI posting significant declines this summer (down nearly $20 per barrel), pump prices are likely to follow with notable declines leading up to Labor Day weekend, the unofficial end of the summer season.
Beyond the summer driving season, should the price of crude oil continue to drop, prices at the pump could continue to inch closer to the $2 per gallon mark in many parts of the country by year's end.
West Texas Intermediate (WTI), the domestic benchmark for crude oil, posted its sixth consecutive week of losses, meaning pump prices are likely to post declines leading up to the Labor Day holiday.  At the close of Friday's formal trading on the NYMEX, WTI settled at $42.18 per barrel. Expectations that the global oil market will remain oversupplied in the near term are keeping downward pressure on the price of crude. Other factors include:
China's economy – still showing weakness, increasing concerns that it may not be prepared to help counter the market's oversupply.
Iranian oil – there is the potential to return to the market as early as this fall.
U.S. crude oil rig – thirty-two rigs have been added over the last six weeks, combined with record refinery runs.
CURRENT AND PAST GAS PRICE AVERAGES
Regular Unleaded Gasoline (*indicates record high)
Today
8/16/15

Week Ago
8/09/15

Year Ago
8/16/14

National

$2.67

$2.60

$3.46

Virginia

$2.35

$2.39

$3.23

Charlottesville

$2.23

$2.31

$3.13

Norfolk Area

$2.38

$2.42

$3.30

Richmond

$2.33

$2.38

$3.17

Roanoke

$2.30

$2.35

$3.15

Crude Oil

$42.18
per barrel
(Friday 8/14/15 close)

$43.75
per barrel
(Friday 8/07/15 close)

$95.58
per barrel
(8/14/14)
Comments