Top News
AAA; Record-breaking pothole season not over?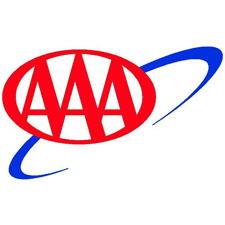 Monday's snowstorm brought in March like a lion, piling up more misery for motorists in an already record-breaking winter season.  AAA Mid-Atlantic responded to 4,575 requests for assistance on Monday territory-wide, a below average figure due to motorists heeding warnings to stay off the roads.  However AAA requests for assistance jumped 77 percent territory-wide Tuesday to 8,089.  The auto club's territory includes DC, DE, MD, NJ, PA and Va.
In Virginia, AAA Mid-Atlantic responded to 757 requests for assistance on Monday, again a below average figure.  Tuesday's requests for assistance jumped 134 percent to 1771 as motorists returned to the roadways after Monday's snow storm.
AAA Mid-Atlantic saw record-breaking tire-related requests for assistance in January and February, topping out at 67,621 territory-wide, making this January and February the first and third busiest ever (in terms of tire-related requests), with the second busiest month coming in December 2010.
Snow, rain, cold, and wild temperature swings add up to one thing:  potholes shaking up motorists on back roads and highways alike.  Motorists across the Commonwealth have been calling AAA after hitting these bone-jarring craters.  AAA Mid-Atlantic's tire-related calls in Virginia for January and February reached 8,879 combined, up nearly 10 percent over the same two months last year.
"This harsh winter weather has created pothole hazards and money pits for motorists on area roadways, shaking up motorists and creating financial mayhem," said Martha Mitchell Meade, Manager of Public and Government Affairs for AAA Mid-Atlantic.  "Our roadside assistance crews in Virginia responded to 3,973 tire-related requests for assistance in February.  AAA urges motorists to slow down and increase following distances to see potholes early enough to avoid them."
AAA Mid-Atlantic Emergency Roadside Assistance Volume – February 2014
| | | | | |
| --- | --- | --- | --- | --- |
| | Tow | Battery | Tire | TOTAL VOLUME |
| Philadelphia(5-county) | 16,147 | 12,123 | 10,301 | 48,088 |
| New Jersey | 19,115 | 11,399 | 95,38 | 49,187 |
| Delaware | 2,350 | 1,660 | 1,119 | 6,319 |
| District of Columbia | 2,173 | 2,002 | 1,306 | 6,195 |
| Maryland | 16,919 | 11,374 | 6,766 | 4,2480 |
| Virginia | 11,659 | 8,738 | 3,973 | 30,948 |
| TOTALS* | 68,363 | 47,296 | 33,003 | 183,217 |
(* Note: AAA Mid-Atlantic totals include service to DC, DE, MD, NJ, PA and VA.)