AAA: Lowest summertime gas prices in five years have Americans driving more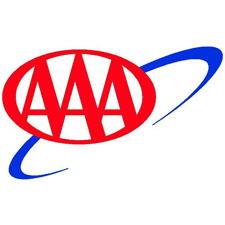 Gas prices remain relatively stable as the summer driving season kicks into gear. Travel and gasoline consumption are expected to be higher this summer compared to levels in 2014, according to the U.S. Energy Information Administration (EIA) forecast earlier this week.
The national average price for regular unleaded gasoline was $2.76 per gallon Friday, unchanged from one week ago, 4 cents less than one month ago and the lowest mark for this date since 2010. Nationally, the retail average is four cents per gallon less than the 2015 peak price of $2.80 per gallon (June 15).
CURRENT AND PAST GAS PRICE AVERAGES
Regular Unleaded Gasoline (*indicates record high)
Today
7/19/15

Week Ago
7/12/15

Year Ago
7/19/14

National

$2.76

$2.77

$3.58

Virginia

$2.54

$2.58

$3.39

Charlottesville

$2.49

$2.53

$3.32

Norfolk Area

$2.61

$2.64

$3.48

Richmond

$2.53

$2.57

$3.36

Roanoke

$2.46

$2.51

$3.29

Crude Oil

$50.80
per barrel
(Friday 7/17/15 close)

$52.77
per barrel
(Friday 7/10/15 close)

$103.19
per barrel
(7/18/14)
Motor gasoline consumption is expected to increase 2.1 percent over last summer, the EIA says. Plus, driving this summer is expected to be 2.2 percent higher than last summer, (In 2014, Americans drove 800 billion miles). That's the largest year-over-year summer increase in 11 years. Pump prices are expected to average $2.67 per gallon this summer, the agency predicts.
Lower global crude oil prices are contributing downward pressure on gasoline prices across the nation.  A week ago oil prices dropped to multi-month lows under the weight of the Greek debt crisis and expectations that a deal with Iran might be reached. This week a Greek debt bailout was arranged and six world powers and Iran reached an historic nuclear deal.  Both international events have the potential to put additional downward pressure on oil prices and contribute to the oversupply that currently characterizes global oil markets.  At the close of formal trading on the NYMEX, crude oil settled at $50.80 per barrel.
The Energy Information Administration (EIA) noted in its weekly report that U.S. commercial crude oil inventories decreased by 4.3 million barrels to 461.4 million barrels.  U.S. crude oil inventories remain near levels not seen for this time of year in at least the last 80 years.  Gasoline inventories were up slightly, 100,000 barrels, to 218 barrels.  Gasoline demand came in at 9.404 million barrels per day (bpd), a slight 129,000 bpd decline.
"Global activities, including the nuclear deal with Iran, will continue to garner attention, though it may take some time to have a major impact on gas prices," said Martha Meade, Manager of Public and Government Affairs for AAA Mid-Atlantic. "Currently, drivers are paying the cheapest summertime gas prices since 2010, which could continue into the fall as people begin to drive less and the glut of oil in the market continues to grow."
Sanctions placed on Iran could last for at least a few more months and the country will need to ramp up production, which could be challenging because the sanctions have limited technology and investment. Iranian crude oil could potentially flood an oversaturated market, which could push crude oil (and in turn gas prices) downward.  Oil represents about 60 percent of the cost of gasoline, which means anytime oil prices drop that should help consumers. A $10 per barrel change in the cost of crude oil can send gas prices down by about 25 cents per gallon.
Comments