AAA: Gas prices inching upward after weeks of falls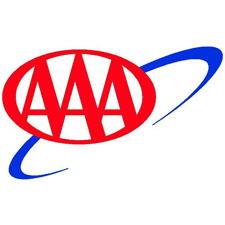 The national average price of gas has seen a reversal of course this week, inching upward to $2.22 Sunday.  Despite this slight uptick, the national average continues to sit at its lowest price for this date since 2007. Pump prices have declined by 9 cents month-over-month and motorists are benefiting from significant yearly savings, with today's price 72 cents per gallon less than a year ago.
The national average declined 23 out of 31 days in October for a total of 10 cents per gallon, pushing the October average to the lowest for the month since 2006.  The national gas price average has remained lower than $3 per gallon for more than a year going back to November 1, 2014.  AAA estimates that drivers are spending about $275 million less per day on gasoline compared to a year ago.
West Texas Intermediate (WTI) crude oil closed out Friday's formal trading session on the NYMEX at $44.29, down $2.30 on the week.  The cost of domestic crude oil has increased in recent days, which can make it more expensive for refineries to produce gasoline. Many refineries also have been conducting seasonal maintenance, which has temporarily limited fuel production and led to a decline in gasoline supplies. Much of this maintenance is expected to end over the next few weeks.
"Gas prices likely will increase during the first half of November, but that trend might not last long," said Martha M. Meade, Manager of Public and Government Affairs for AAA Mid-Atlantic. "With any luck, we could still see average gas prices drop below $2 per gallon in more areas in time for Christmas, making it likely that drivers will find the cheapest gas prices for the upcoming holidays in at least seven years."
Many regions are likely to experience higher gas prices in the near term due to continued refinery maintenance and the recent rise in crude oil costs. Nevertheless, this increase may be temporary due to normal seasonal trends.  People generally drive fewer miles and use less gasoline as the weather grows colder, which could lead to lower gas prices later this year after refineries complete maintenance.
CURRENT AND PAST GAS PRICE AVERAGES
Regular Unleaded Gasoline (*indicates record high)
Today
11/8/15

Week Ago
11/1/15

Year Ago
11/8/14

National

$2.22

$2.19

$2.94

Virginia

$2.02

$1.96

$2.73

Charlottesville

$2.01

$1.97

$2.77

Norfolk Area

$2.00

$1.93

$2.77

Richmond

$1.98

$1.88

$2.63

Roanoke

$1.98

$1.97

$2.70

Crude Oil

$44.29
per barrel
(Friday 11/6/15 close)

$46.59
per barrel
(Friday 10/30/15 close)

$79.30
per barrel
(11/7/14)
Comments