#8 UVA puts the clamps down on #12 UNC, wins 61-49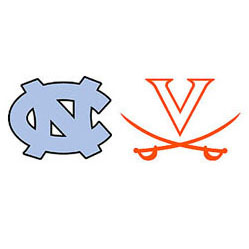 Defending national champ North Carolina scored just one point in the final 7:11 after cutting the UVA lead to six, and the eighth-ranked 'Hoos finished off a 61-49 win Saturday.
Virginia (14-1, 3-0 ACC) led 35-28 at the half, forcing 10 first-half Carolina turnovers, and turning them into a 15-0 advantage in points off turnovers.
The Tar Heels (12-4, 1-2 ACC) got the margin down to five, at 47-42, on a Joel Berry II three-pointer with 11:31 to go.
That was as close as it would get, as UNC would make just one of its final 13 shots from the field, its last field goal coming at the 7:11 mark on a layup by Cameron Johnson that cut the Virginia lead to 54-48.
Redshirt freshman DeAndre Hunter responded with a tough turnaround jumper on UVA's next possession to push the margin to eight, and a Ty Jerome three with 4:54 to go made it 61-48 Cavaliers.
UNC shot just 29.6 percent from the field (16-of-54), and was 7-of-26 from the floor (26.9 percent) in the second half.
Berry led the Heels with 17 points on 7-of-17 shooting from the field. Kenny Williams added 11.
Luke Maye, Carolina's leading scorer coming in, at 18.1 points per game, had just six on 2-of-10 shooting.
Devon Hall had 16 points to pace UVA, shooting 6-of-8 from the floor and a cool 4-of-4 from three-point range, and also had a team-high seven assists.
Hunter had 10 points and seven rebounds in 18 minutes off the bench for Virginia, which shot 45.3 percent from the field (24-of-53).
The 'Hoos finished with a 25-3 advantage in points off turnovers, and an 18-14 edge in points in the paint.
Carolina had a 42-30 rebound advantage, including pulling down 23 offensive rebounds, but only had a modest 12-7 edge in second-chance points.
Team Notes
Virginia (14-1, 3-0 ACC) extended its winning streak to six games
UVA is 3-0 in ACC play for the first time since going 7-0 in 2014-15
UVA has held North Carolina to 49 or fewer points in the last two meetings at JPJ (53-43 last season)
The Cavaliers have a five-game winning streak vs. North Carolina at JPJ
UVA has held 12 opponents to under 43 percent shooting and all 15 opponents to under 50 percent (UNC – 29.3 percent)
Virginia is 71-2 under Bennett when holding opponents under 50 points and 7-0 this season
Virginia is 43-4 at JPJ in ACC play in the last six seasons
The Cavaliers improved to 10-0 at John Paul Jones Arena in the midst of a 12-game home-winning streak
Virginia forced 19 turnovers, the most North Carolina has had in a game this season
28 points is the second-lowest first half point total for North Carolina this year (23 vs. Michigan State)
Player Notes
Double-figure scorers: Devon Hall (16), De'Andre Hunter (10)
With two blocks, Isaiah Wilkins moved into sole possession of fifth on UVA's career blocked shot list, breaking a tie with Jason Clark (112)
Hall recorded a season-high seven assists and matched a career-high with four 3-pointers