#3 Virginia holds off Syracuse, wins 68-61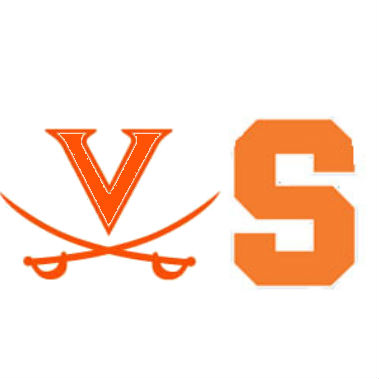 A 12-2 second-half run gave #3 Virginia a working margin, but the 'Hoos had to work to finish off Syracuse in a 68-61 win on Tuesday in Charlottesville.
UVA (15-1, 4-0 ACC) led 64-50 with 1:24 to go after two free throws by Devon Hall, but the Orange (12-5, 1-4 ACC) got within five with a 9-0 run that made it 64-59 with 29.4 seconds left.
Two more free throws by Hall with 24 seconds left made it a seven-point game. Oshae Brissett made two of three free throws with 15 seconds left to get it back to five.
Kyle Guy connected on a pair of free throws with 11.9 seconds left to close out the game.
Virginia led 29-26 at the half on the strength of a big effort from De'Andre Hunter, who scored 13 points in 12 minutes off the bench, working in the soft spot of the Syracuse 2-3 zone.
Hunter would finish with 15 for Virginia, with Guy hitting for a game-high 22, shooting 6-of-14 from the floor and 5-of-11 from three-point range.
Hall added 13 points, including going 8-of-8 at the line, and had a game-high eight assists.
Frank Howard had 18 points to lead Syracuse, but Howard was just 6-of-20 from the field for the game.
The Orange shot 38.3 percent (23-of-60) and was 6-of-21 (28.6 percent) from three-point range, including just 2-of-12 from long-range in the second half.
Virginia shot 37.7 percent (20-of-53) from the field and was 9-of-27 (33.3 percent) from three, including 6-of-15 in the second half.
UVA had a big advantage at the foul line, going 19-of-22 as a team, with Syracuse finishing 9-of-11.
Syracuse had a massive advantage on the boards, 41-31, including 19 offensive rebounds, but had just a 17-16 edge in second-chance points for those efforts.
Virginia's next game is Sunday at 6 p.m. at home against NC State.
Team Notes
Virginia (15-1, 4-0 ACC) extended its winning streak to seven games
UVA is 4-0 in ACC play for the first time since going 7-0 in 2014-15
Virginia ended a two-game losing streak to Syracuse
The Cavaliers are now 5-5 all-time against Syracuse and 3-1 in JPJ
UVA has held 13 opponents to under 43 percent shooting and all 16 opponents to under 50 percent (Syracuse – 38.3 percent)
Virginia is 44-4 at JPJ in ACC play in the last six seasons
The Cavaliers improved to 11-0 at John Paul Jones Arena in the midst of a 13-game home-winning streak
With the win, Virginia has now won 11 or more games at JPJ in each of the last nine seasons
Syracuse scored 26 points in the first half, their third lowest total of the season (21 vs. Kansas, 24 vs. Eastern Michigan)
After opening the game 3 of 14 from the field, UVA closed the first half 8 of 12
UVA's 27 3-point field goal attempts were its most since attempting 34 against Grambling State (11/22/16)
Player Notes
Double-figure scorers: Kyle Guy (22), De'Andre Hunter (15), Devon Hall (13)
Guy recorded his third 20-point game (fifth career)
Hall recorded a career-high eight assists and career-high 8 of 8 FTs
Hall matched a season high with seven rebounds
Guy played a career-high 40 minutes, marking the first time a Virginia player has played every minute since Sylven Landesberg in 2009 against Clemson
De'Andre Hunter tied career highs with two steals and two blocked shots