Sports
#3 UVA baseball playing for more than pride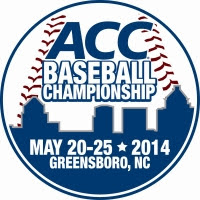 The bad news: I wasn't even in the state of North Carolina yet on Friday, and already the third-ranked UVA baseball team had been eliminated from contention for a spot in Sunday's 2014 ACC Championshio Game, by virtue of Maryland's 5-3 upset of #5 Florida State.
So there you go. No ACC title for Virginia heading into next week's NCAA Tournament. Not that the ACC title is what the Cavs are looking for in 2014 after spending most of the season ranked #1 in the country. It's College World Series or bust for Brian O'Connor and his crew.
So how do the remaining games with North Carolina Friday night and Florida State on Saturday get Virginia closer to that ultimate goal? Well, for starters, wins in both would do well to put UVA in a positive frame of mind heading into the regionals next week, with the team reeling a bit, having lost three of its last four, including dropping its first weekend series of the year last weekend at Wake Forest.
In addition to the positive frame of mind, it's not at all out of the question that Virginia could end up the top overall seed in the NCAA field. That and a dollar can get you something off the value menu at McDonald's, but it's still a nice recognition for a program that has built up a sustained run of success over the past decade-plus.
On the flip side, losses in both would push Virginia down in the national rankings and in the RPI, where even having lost three of its last four, UVA still sits #1 in the country in that metric.
Losses in five of six heading into the tournament could push Virginia down toward the bottom of the top eight national seeds, and who knows, maybe all the way out of the national seed conversation, though that seems unlikely, given the body of work from February to now.
But it's not out of the realm of possibility that Virginia could be reduced to being guaranteed to host only the regional round next weekend given a poor showing this weekend in Greensboro.
Them's the stakes for the Cavs. No ACC title is in the offing, but there's still a lot to play for.
– Column by Chris Graham