2006 Me and the 2019 Final Four: Unfathomable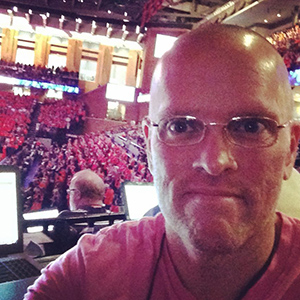 I've been thinking the past couple of days about 2006 Me, the guy who worked with Patrick Hite on the book Mad About U: Four Decades of Basketball at University Hall.
The chapter that we wrote on the Ralph Sampson era felt to 2006 Me like something so far in the distant past of UVA Basketball that it was almost as if it hadn't happen, and that it certainly could never happen again.
Things had declined that much. The sum total of the program's NCAA Tournament history over the preceding decade was two one-off appearances.
There was one more to come under the then-current coach, Dave Leitao, and, yes, by gawd, a win, in 2007, and it felt like a tremendous accomplishment that year to get to the Round of 32.
But, ACC titles, #1 seeds, runs to Sweet Sixteens, Elite Eights?
That was in the rear-view.
2006 Me, writing a history of UVA Basketball, couldn't fathom that those days would ever return, and again, it was almost as if it hadn't happened the first time.
It sure didn't feel like we'd earned the Ralph Years as a fan base.
The best player in amateur basketball happened to have grown up across the Blue Ridge, and then happened to stay around for four years.
Even then, we only went to one Final Four with him, and then that fluky one after he left.
It wasn't repeatable, that era, and there was no getting around what we all seemed to accept the ceiling was.
Win 20 games, every three or four years, maybe make a push for top three, four in the ACC, maybe we get hot in March and get to a Sweet Sixteen, and otherwise, just enjoy an occasional upset of Duke or UNC while taking any of a number of lumps the rest of the time.
2006 Me would have been perfectly happy with a UVA Basketball program that would look at a 23-11 season as a down year, getting to an Elite Eight and blowing a late lead – Seriously, we had a lead late in an Elite Eight game, that's awesome, that 2006 me would say, if you had shown him the future.
I'm getting on a plane in a couple of days to sit on media row covering UVA Basketball in a Final Four, and it's no fluke.
Tony Bennett has had four teams as #1 seeds in the past six years, and any of those four, plus the #2 seed from 2015, could have just as easily gotten that far.
We're in the midst of a 64-6 run over the past two-and-counting years, and we're so fat and happy as a fan base that we let ourselves agonize over the six, and the wins in the 64 that weren't quite impressive enough.
2006 Me that was two years from covering several UVA games in something called the CBI got worked up when Sean Singletary stole the ball at midcourt late in a win over ODU that got us farther along in that crapstain of a postseason tournament.
I spent valuable worktime today setting up a video background display on my desktop and laptop that plays an endless loop of the Play of the Century.
My first thought was that 2006 Me would hate the me who was up late last night making plane and hotel reservations for a trip to the Final Four, but the more I think about it, it occurs to me that he wouldn't have been able to process anything coming after the 2014 ACC Tournament.
We beat Duke to win the ACC Tourna-.
Trying to explain to a Final Four with UVA as the favorite to 2006 Me is akin to getting the infinite number of monkeys typing on an infinite number of keyboards to result in the one producing the completed works of Shakespeare.
Which is to say, it could happen, but, that's a lot of monkeys.
Column by Chris Graham
Comments