#2 Virginia wins at Georgia Tech, 64-48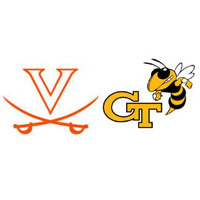 Second-ranked Virginia overcame a sluggish start to lead by nine at the half en route to a 64-48 win at Georgia Tech on Thursday.
UVA (17-1, 6-0 ACC) has now won nine straight, but it was tough sledding at the outset, as the 'Hoos made just six of their first 21 shots from the floor, with Georgia Tech center Ben Lammers recording six first-half blocked shots.
But a De'Andre Hunter four-point play with a half-second to go in the first half gave Virginia a 28-19 lead.
The Cavaliers led by double digits for most of the second half, taking control for good with an 8-0 run over a two and a half minute stretch of the second half that ended with Virginia going up 56-38 at the 5:22 mark on a Hunter jumper.
Hunter, a redshirt freshman, had his fourth double-digit scoring game in ACC play, finishing with a game-high 17 points on 7-of-9 shooting from the floor in 26 minutes off the bench.
Ty Jerome had 12 points, shooting 5-of-9 from the field, with six rebounds and five assists.
Kyle Guy and Devon Hall each had 11 points for Virginia, which shot 45.6 percent from the field (27-of-58).
Tadric Jackson had 14 points to lead Georgia Tech (10-8, 3-2 ACC), which shot 39 percent (17-of-42) from the field, but had a ghastly 18 turnovers.
Team Notes
Virginia improved to 17-1 and 6-0 in ACC action
The Cavaliers' nine-game winning streak is their longest since winning 11 straight in 2015-16
Virginia has started 6-0 in ACC play for the first time since starting 7-0 in 2014-15
UVA is 3-1 in true road games
UVA is 72-2 when holding opponents under 50 points in the Tony Bennett era (8-0 in 2017-18)
Virginia has a three-game winning streak vs. Georgia Tech
The Cavaliers held Georgia Tech to 19 first-half points (UVA low during ACC play)
UVA held Georgia Tech scoreless for

7:50

during the first half (fourth longest this season)
UVA started 2 of 10 from the field, but finished 27 of 58 (46.6%)
Player Notes
Georgia native Isaiah Wilkins had nine points, five rebounds, three steals and two blocked shots
De'Andre Hunter (17 points) has reached double figures in four of the last five games
Kyle Guy (11 points) has reached double figures in 15 games
Ty Jerome (12 points) has reached double figures in seven games, including three ACC games
Devon Hall (11 points) has reached double figures in five straight games
Jerome had a career-high three steals