#1 Virginia wins at Miami, 59-50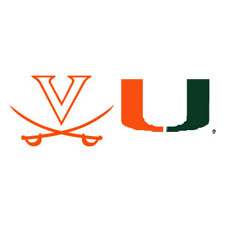 Virginia won its first game as a top-ranked team in more than 35 years, getting 22 points off the bench from De'Andre Hunter in a 59-50 win at Miami on Tuesday.
The 'Hoos (24-2, 13-1 ACC) took control with a 13-0 first-half run that sent them into the break up 27-16 at the half, with Miami shooting just 21.4 percent from the floor (6-of-28) in the opening 20 minutes.
The Hurricanes (18-7, 7-6 ACC) would close to within three with a 10-2 run out of the locker room, but Hunter's huge second half – 15 points on 5-of-6 shooting – was the difference.
Hunter, a 6'7" redshirt freshman, logged 30 minutes off the bench, and scored 12 of 14 UVA points in one stretch, as Virginia built as much as a 15-point lead, after a four-point play by Hunter put the margin at 55-40 with 3:02 left.
Miami shot 63.2 percent from the floor in the second half (12-of-19), but committed seven second-half turnovers.
Virginia shot 45.8 percent (22-of-48) from the floor for the game, and had a 32-24 advantage over the bigger 'Canes on the boards.
Kyle Guy added 13 points on 5-of-9 shooting for UVA, which got six points and seven assists from Ty Jerome.
Chris Lykes had a career-high 19 points for Miami.
Team Notes
Virginia improved to 24-2 and 13-1 ACC
UVA is 21-3 all-time in the 12 weeks as the top-ranked team
UVA clinched a double bye and top-four seed for the ACC Tournament
UVA is 8-1 on the road, including 7-0 in ACC action
UVA's seven-game ACC road winning streak is its longest since winning eight straight in 2014-15
Virginia limited its 25th opponent to less than 50 percent shooting (Miami – 38.3%)
UVA has an ACC-leading 33-19 road mark in league play over the past six seasons
UVA has held 20 opponents to 60 points or less
UVA is 10-12 all-time vs. Miami
UVA is 2-7 all-time against the Hurricanes in Coral Gables
Ten of the last 11 meetings between the teams have been decided by nine points or less
UVA led 27-16 at the half and improved to 22-0 when leading at the half
The 16 first-half points allowed by UVA marked a season low
UVA held Miami scoreless for

7:21

of the first half
Player Notes
De'Andre Hunter (22 points) reached double figures in nine ACC games
The 22 points by Hunter marked an ACC high in league play
Kyle Guy (13 points) has reached double figures in 23 games
Guy extended his made 3-pointer streak to 26 games, most for a UVA player since Sean Singletary's 26-game streak (2006-08)