#1 Virginia finishes off 17-1 run in ACC with win over Notre Dame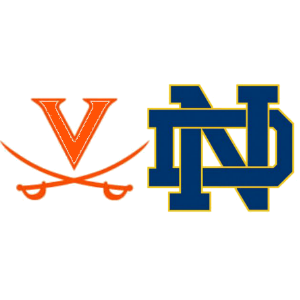 #1 Virginia won an ACC-record 17th conference game, finishing off Notre Dame late in a 62-57 triumph in Charlottesville on Saturday.
The 'Hoos (28-2, 17-1 ACC) led by as many as 11 in the first half, but the Irish (18-13, 8-10 ACC) led 43-39 with 13:09 to go on a Matt Farrell three-pointer.
A 14-4 Virginia run put the Cavaliers back on top by six, at 53-47, on a pair of Devon Hall free throws with 7:31 to go, but it would tighten up from there.
A Bonzie Colson jumper with 3:27 left cut the deficit to one, at 55-54, and after a Hall layup and a pair of free throws by Isaiah Wilkins, another Farrell three would cut the lead to two, at 59-57, with 2:26 to go.
Notre Dame missed its final four shots, including a pair of contested threes by Farrell and Colson, and De'Andre Hunter went 3-of-4 at the line in the final 20 seconds to close things out.
Colson had a monster afternoon in his second game back from a broken left foot that cost him 15 games, scoring a game-high 24 points on 9-of-20 shooting to go with 15 rebounds in 37 minutes.
He didn't get much help from his teammates, though, as Notre Dame shot just 35.8 percent for the game (19-of-53), connecting on 7-of-24 (29.2 percent) from three-point range.
Hall had 17 points, six assists and five rebounds in 37 minutes to pace Virginia, which shot 42 percent (21-of-50) from the floor and 45.5 percent (5-of-11) from three-point range.
Ty Jerome had 13 points, and Hunter added 10 off the bench for UVA, which next plays on Thursday in the ACC Tournament quarterfinals.
Team Notes
Virginia improved to 28-2 and 17-1 ACC
UVA became the first team in ACC history to win 17 league games
UVA is 25-3 all-time in the 13 weeks as the top-ranked team
UVA has a five-game winning streak
UVA has 28 or more wins for the seventh time in history (1981, 1982, 1983, 2014, 2015, 2016, 2018)
UVA is 11-2 all-time vs. Notre Dame, including a 6-0 mark in ACC regular-season play
Virginia limited its 29th opponent to less than 50 percent shooting (Notre Dame – 35.8%)
UVA led 32-27 at the half and improved to 25-0 when leading at halftime
UVA outscored Notre Dame's bench 19-0
UVA held its 22 opponent to 60 or fewer points
Player Notes
Devon Hall (17 points) reached double figures for the 20th time
Ty Jerome (13 points) reached double figures for the 15th time this season
De'Andre Hunter (10 points) reached double figures for the 11thtime in ACC action
Isaiah Wilkins totaled six rebounds to move into a tie Gene Engel for 18th on UVA's all-time rebounding list with 612
Mamadi Diakite (9 points) has scored nine or more points in three of the last four games
Nigel Johnson started in place of Kyle Guy on Senior Day
UVA had the same starting lineup of sophomore Ty Jerome, redshirt senior Devon Hall, senior Isaiah Wilkins, redshirt junior Jack Salt and sophomore Guy for the first 29 games