Weekend Watchdog: The flag drops on NASCAR season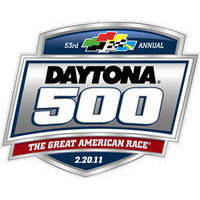 Can Jimmie Johnson win yet another title? Can Dale Earnhardt Jr. win once? Will a new star burst onto the scene in 2011?
NASCAR begins answering its questions Sunday when the flag drops on the 53rd annual Daytona 500. Fox has the coverage starting at 1 p.m., and by nightfall a new hero will be crowned. Dale Jr. has the pole, with teammate Jeff Gordon in the second slot. But Dale Jr. had the second spot in the 2010 Daytona 500, and failed to reach Victory Lane for the second straight season.
The rest of the Daytona 500 field will be set in the Twin 125, shown Thursday at 2 p.m. on Speed.
First race of the Nationwide Series season will be Saturday at 1 p.m. on ESPN2.
Boogity, boogity, boogity, let's go racing boys.
The best of the NBA gather in L.A. Sunday for the All-Star game at 7 p.m. on TNT. Saturday is time for the other all-star events, starting at 8 p.m. and finishing with the Slam Dunk champion.
For those who want an early start to the weekend, ESPN has the Celebrity All-Star game Friday at 7 p.m. For the hopeful stars of the future, Versus shows the D-League game between Bakersfield and Idaho Saturday at 11 p.m.
It's BracketBuster weekend at ESPN. Friday, ESPN2 offers Virginia Commonwealth at Wichita State at 7 p.m. There's four more games on the ESPN2 schedule Saturday, starting with Missouri State at Valaparaiso at 5 p.m., followed by George Mason-Northern Iowa. The coverage heads west at 9 p.m. for Utah State taking on St. Mary's, then Montana meets Long Beach State. Sunday at 1 p.m. on ESPN2, Cleveland State visits Old Dominion.
The hoops weekend begins Thursday on ESPN when Penn State takes on Minnesota at 7 p.m., followed by Alabama-LSU. On ESPN2, Clemson visits N.C. State at 7 p.m., then it's DePaul at Providence. Friday, ESPN has the Big East at 9 p.m. as Connecticut takes on Louisville.
ESPN offers five games on Saturday, beginning at noon with Pittsburgh at St. John's. Top-ranked Kansas hosts Colorado at 2 p.m., then it's Boston College-North Carolina and Washington at Arizona. The GameDay crew will watch Illinois take on Michigan State at 9 p.m.
Sunday, ESPN has Florida-LSU at 1 p.m.
Virginia hosts Virginia Tech on the ACC network and NBC29 Saturday at 1 p.m., while CW29 and southern areas of the conference see Florida State at Wake Forest.
CBS has a pair of games to show Saturday at 1 p.m. – splitting the country between Georgia-Tennessee and Notre Dame-West Virginia – then Sunday at 1 p.m. it's Ohio State at Purdue.
MASN offers four Big East games Saturday, starting at noon when Villanova visits DePaul. Rutgers goes to Syracuse at 4 p.m., then it's a primetime doubleheader starting at 7 p.m. – Georgetown traveling to South Florida and Seton Hall-Marquette.There's a pair of Atlantic 10 games on Comcast Saturday – Duquesne-Dayton at noon and George Washington taking on LaSalle at 7 p.m. – with Oregon State-Oregon at 4 p.m.
Sunday is the ACC doubleheader – North Carolina State at Maryland at 5:30 p.m. with Georgia Tech-Duke as the nightcap. UCLA visits California at 10:30 p.m.
MASN carries Big East women's basketball Saturday at 2 p.m. when Notre Dame goes to Connecticut. Sunday, it's time for America East action when UMBC visits Hartford at 1:30 p.m.
Comcast offers CAA women's basketball Thursday at 7 p.m. when William & Mary meets Drexel. Saturday, it's off to the Big 12 for Baylor-Texas Tech at 2 p.m. and Sunday's there's a pair of games – Boston College at Virginia at 1 p.m. followed by James Madison at Delaware.
ESPN2 has a women's doubleheader Sunday – Maryland at Florida State at 3 p.m., then it's off to the Big 10 for Ohio State-Purdue.
Outdoor ice hockey takes the stage on Versus Sunday at 6 p.m., when Calgary hosts Montreal in the Heritage Classic.
The Capitals continue their road trip at San Jose Thursday at 10:30 p.m. on Comcast, then visit Buffalo Sunday at 12:30 p.m. as one of three games on NBC. NBC continues the hockey action at 3:30 p.m. when Pittsburgh takes on Chicago. Versus
Comcast has the Flyers visiting Carolina Friday at 8 p.m.
CBS has the PGA tour -the Northern Trust Open – Saturday and Sunday at 3 p.m.
A sure sign of spring is college lacrosse, and Sunday at 3 p.m. ESPN shows Duke at Notre Dame.
Weekend Watchdog column by Mike Judge. More sports at VaSportsOnline.com.

Comments