Webb introduces legislation to stop technology drift to China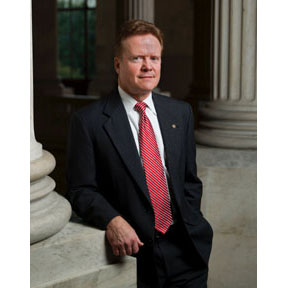 Sen. Jim Webb (D-Va.) today introduced legislation to stop technologies developed with the support of U.S. taxpayers from being given away to China or other countries.
Many American companies operating in China are required to transfer their intellectual property and proprietary technology to China as a prerequisite for doing business there.  Many of these technologies were developed using U.S. tax dollars through grants, loans, loan guarantees and other federal incentives in order to make America competitive and create American jobs.
"If taxpayers supported the development of the technology, they own a piece of it and it can't just be given away," said Webb. "Federal dollars that go toward R&D funding, loan guarantees, and public-private partnerships in order to help develop the next generation of technologies here are supposed to be making American businesses competitive and generate American jobs—not to help develop other industries, such as those in China."
"In cases where technologies are developed with the support of the American taxpayer, my legislation prohibits companies from transferring the technology to countries that by law, practice, or policy require proprietary technology transfers as a matter of doing business," continued Senator Webb. "The transfer of publicly supported proprietary technologies by American firms to China — and potentially other countries — clearly and unequivocally places the competitive advantage of the American economy at risk."
Examples of China profiting from U.S. taxpayer-funded technologies:
·         General Electric has transferred valuable aviation avionics technology to state-owned Aviation Industry Corporation of China.  The U.S. government has long supported the aviation industry through procurement initiatives and federal research projects.  The fruits of U.S. taxpayer support will now be incorporated into Chinese commercial airliners, in line with Beijing's desire to develop an internationally competitive aircraft industry that could rival U.S.-based Boeing.  (Source: The Washington Post)
·         Westinghouse Electric has transferred more than 75,000 documents to Chinese counterparts as the initial phase of a technology transfer agreement in exchange for a share in China's growing nuclear market. These documents relate to the construction of four third-generation AP1000 reactors that Westinghouse is building in China.  U.S. taxpayers supported the development of the AP1000 as well its predecessor, the AP600, through decades of nuclear energy research and development at the Department of Energy (DOE).  Moreover, the DOE Nuclear Power 2010 program provided years of government support for the design and licensing of this reactor. (Source: The Financial Times)
·         Ford Motor Company is looking to share certain proprietary technologies for electric vehicles in exchange for selling cars in China.  The electric vehicle sector has enjoyed significant federal R&D funding, loan guarantees, and public-private partnerships funded by U.S. taxpayers.  In 2009, Ford Motor Co. received a $5.9 billion loan guarantee from the Department of Energy to advance its vehicle technology manufacturing program. (Source: The New York Times)
A U.S. Chamber of Commerce report warns that China's "persistent" intellectual property theft is "compounded by the indigenous innovation industrial policies which compel technology transfers in order to have access to the China market."
In a January 2010 letter to Obama Administration officials, the heads of 19 U.S. business and industry associations—including the Business Roundtable, the National Association of Manufacturers, and the Chamber of Commerce—wrote of "[s]ystematic efforts by China to develop policies that build their domestic enterprises at the expense of U.S. firms and U.S. intellectual property."

Comments