Tag: special olympics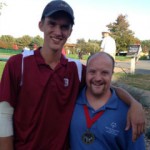 Last month, the Bridgewater College men's and women's golf teams partnered with Special Olympics for a golf outing at Lakeview Golf Course. That partnership was selected by the NCAA to be one of the featured stories in November's Special Olympics Spotlight at NCAA.org.
---
Bridgewater College – in conjunction with the Old Dominion Athletic Conference – will participate in the Harrisonburg and Rockingham County area Special Olympics this year with an initiative designed to make selected participants an "Eagle for a Day." Bridgewater's Student-Athlete Advisory Committee will have each of the college's sports teams adopt a Special Olympian for […]
---
Debbie Winters, director of Ride With Pride, accepts a check from Old Dominion Cruiser's Club President Andy Chase. The check for $1,200 will go for scholarships for Special Olympics students. Ride With Pride 's therapeutic horseback program has been serving students of all ages for 21 years.
---