Senators urge FEC to improve transparency for online ads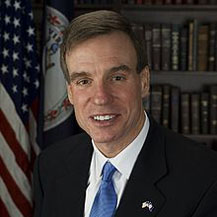 U.S. Sens. Mark R. Warner (D-VA), Amy Klobuchar (D-MN) and Claire McCaskill (D-MO) led a group of 15 senators in urging the Federal Election Commission (FEC) to take immediate action to improve transparency for political advertisements online. Monday was the final day of a month-long comment period considering whether the FEC should update rules that currently exempt many online ads from the requirements applied to political ads that air on television and radio.
Russia attempted to influence the 2016 presidential election by buying and placing political ads on platforms such as Facebook, Twitter and Google. However, Americans had no way of knowing who was behind the ads, because, unlike radio and television ads, the FEC has exempted large swathes of online ads from general requirements to include disclaimers about who is responsible for the content.
"Over the past year, our country has come to realize the ease with which foreign actors can interfere in our elections, undermining the integrity of – and reducing public confidence in – the electoral process. As part of a wide-ranging interference campaign during the 2016 election, Russian operatives used advertisements on social media platforms to sow division and discord, distorting public discourse and coarsening our political debate. The actions undertaken by Russia should not be considered an anomaly; they will be the norm in future elections if we do not take immediate action to improve the transparency and security of our election process," wrote the Senators in an official comment submitted to the FEC today.
In addition to Sens. Warner, Klobuchar, and McCaskill, today's comment was submitted to the FEC on behalf of Sens. Michael Bennet (D-CO), Richard Blumenthal (D-CT), Sherrod Brown (D-OH), Bob Casey (D-PA), Dianne Feinstein (D-CA),  Al Franken (D-MN), Tim Kaine (D-VA), Joe Manchin (D-WV), Ed Markey (D-MA), Bill Nelson (D-FL), Jack Reed (D-RI), and Chris Van Hollen (D-MD).
"We believe the FEC can and should take immediate and decisive action to ensure parity between ads seen on the internet and those on television and radio… The FEC must close loopholes that have allowed foreign adversaries to sow discord and misinform the American electorate. The lack of transparency of digital ads is a threat to our national security," the Senators noted. "Without change, the misuse of online advertisements during the 2016 election will serve as a template for other foreign powers who wish to influence our elections. Failure to act threatens the very foundation of our democracy."
Last month, Sens. Warner and Klobuchar along with Sen. John McCain (R-AZ) introduced bipartisan legislation, the Honest Ads Act, that would prevent foreign actors from influencing our elections by ensuring that political ads sold online are covered by the same rules as ads sold on TV, radio, and satellite.