Northam condemns latest Trump attempt to gut Obamacare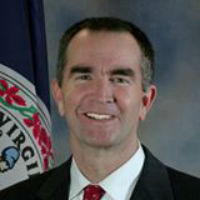 Yesterday, President Donald Trump stated that he supports partially repealing the Affordable Care Act to pay for tax cuts for the wealthiest Americans.
Trump once again called for the repeal of the Affordable Care Act — which would dramatically raise costs for Virginians and throw thousands off their health insurance. As Vox reported this morning, expanding Medicaid for 400,000 Virginians and ensuring access to quality, affordable care has emerged as a top issue for Virginia voters this year.
Dr. Ralph Northam today released the following statement in response to this latest effort to destabilize the Affordable Care Act and lower quality of care and coverage for millions of Americans:
"Taking healthcare away from millions of Americans to give a massive tax cut for the rich is unconscionable. President Trump's latest effort to gut the Affordable Care Act will make healthcare more expensive and cause millions to lose their health care. In short, it will be a disaster for working families and create unprecedented chaos in the health insurance market. The President has once again proved that he has little empathy for working Americans — and is more interested in scoring political points than helping working families.
"Virginians are already suffering from President Trump's efforts to sabotage our health care — and in the coming months, thousands in our commonwealth are set to lose their health insurance. Health care is a right — and our leaders must stop playing political games and come together to build upon and improve the Affordable Care Act. That's why I strongly support expanding Medicaid and ensuring that 400,000 Virginians have health care and why I have urged our leaders in Washington, D.C. to come together to improve and build on the Affordable Care Act — not gut it.
"I urge Ed Gillespie to join me in standing up for Virginia families by firmly rejecting this latest attempt to take health care away from thousands. But I'm not holding my breath. For too long, Gillespie has done nothing while Donald Trump has desperately tried to take health care away from thousands of Virginians. And just like Donald Trump, he has proposed massive tax cuts for the rich that would leave a $1.4 billion hole in our budget — and trigger cuts to health care."