National 811 Day: Call 811 before you dig
Every year, thousands of underground utility lines are struck or damaged nationwide by excavation activities.  This can result in disruption of service, property damage, injuries and even deaths.  It also can lead to liability claims and civil penalties against the responsible parties.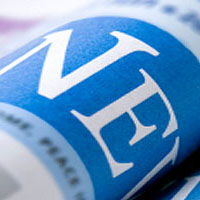 National 811 Day, observed annually on August 11, highlights the need for homeowners and professional excavators to take the first step to avoid damaging underground utility lines by always calling 811 before beginning any digging or demolition projects.
The State Corporation Commission reminds Virginians that calling 811 is simple and free and connects you to VA811 (formally known as Miss Utility of Virginia), which notifies the appropriate utility companies of your intent to dig or demolish.  Utility locators will come to your project area, within the time allowed by law, to mark the approximate horizontal location of their underground utility lines by means of paint, stakes, or flags.  Once marked, any digging within 24 inches of these marked underground lines must be done by hand for safe excavation.
VA811 is open Monday through Friday, 7 a.m. to 5 p.m., excluding legal state and national holidays.  However, emergency notifications can be made 365 days a year, 24 hours a day for excavations involving emergencies as defined in the Virginia Underground Utility Damage Prevention Act.
"When it comes to underground utility lines, safety is everyone's responsibility.  What you can't see truly can hurt you if you damage underground pipelines, cable, water, sewer or electric lines.  Whether you are a homeowner or a professional contractor, always call 811 before you dig and follow Virginia's C.A.R.E. message," said Senior Damage Prevention Specialist Frank Hudik of the SCC's Division of Utility and Railroad Safety.
Virginia's C.A.R.E. message reminds you to call VA811 and emphasizes additional steps you can take to prevent damage to underground utility lines. C.A.R.E. means:
Call 811 before you dig.
Allow the required time for marking.
Respect and protect the marks.
Excavate carefully.
To learn more about "Digging with C.A.R.E." and Virginia's damage prevention program, contact the Division of Utility and Railroad Safety at (804) 371-9980; or visit www.scc.virginia.gov/urs/mutility/index.aspx.
Comments