Liberty routs Clarks Summit in season opener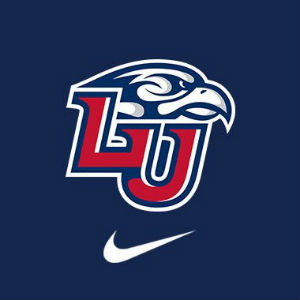 Liberty men's basketball kicked off its 2017-18 season with a dominating 87-42 win over Clarks Summit in front of a crowd of 4,094 at the Vines Center Friday night.
The Flames dominated the paint outscoring the Defenders 46-11. Liberty's Isaiah Williams and Ezra Talbert tied for a game-high 13 points while Lovell Cabbil filled up the stat sheet with 12 points, two assists and a game-high seven rebounds. The Flames presented a balanced scoring attack with 11 players scoring in tonight's opener.
"We have so much more depth than the past two seasons and guys are still trying to get used to playing with one another," head coach Ritchie McKay said. "I thought we were a little disjointed at times offensively. I think we can be better defensively but I still thought there some really good things that happened tonight."
Five players scored double figures for the Flames including 46 points from the bench. In their first college game, Liberty's freshmen (Elijah Cuffee, Keegan McDowell, Isaiah Williams) combined for 34 points, eight rebounds and five steals.
After redshirt senior Ryan Kemrite scored Liberty's first points of the season off a three-pointer on Liberty's first possession, the Flames never relinquished the lead throughout the entire game. Liberty took advantage of its size in the post as Talbert had four quick points inside the paint as the Flames outscored the Defenders 22-5 in the paint in the first half.
Cabbil got the Flames going on offense in the first half turning defense into offense. Cabbil's five rebounds in the first half helped lead to seven points on offense for the junior. Liberty displayed its trademark defense forcing 12 turnovers in the first 20 minutes, leading to 16 points off turnovers. Liberty dominated the first half going into the locker room with a 48-18 lead at halftime.
"It felt great just to get out on the court and play someone other than ourselves," Cabbil said. "I am proud of our team because we were constantly cheering for each other and picking each other up when we made mistakes."
All throughout the game, Talbert dominated the glass pulling down four offensive rebounds and cashing in with 13 points. Getting his first game action since his injury last season on Dec. 10, 2016 was Caleb Homesley and the redshirt sophomore played nine minutes in the second half. On his first two possessions, Homesley delivered two assists to Cabbil and ended the game with three points, three rebounds, two assists and a steal.
"The physical part has been tough but Coach McKay always talks to e about trusting the process," Homesley said returning from injury. "It felt kind of weird being out on the court but it felt great being out there with my teammates and I cannot thank them enough."
Liberty's next game will be next Tuesday, Nov. 14, when they travel to North Carolina to face ACC opponent, Wake Forest. Tipoff is set for 7 p.m. at the Lawrence Joel Veterans Memorial Coliseum.