Is Jeff Bzdelik done at Wake Forest?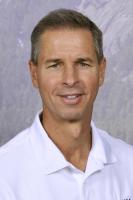 Two NCAA Tournaments in three years and a brief period at #1 in the national polls wasn't enough to save Dino Gaudio's job as head coach at Wake Forest, where Gaudio's teams went a combined 61-31.
The idea that Jeff Bzdelik will be employed too much longer into the future after going 34-60 in three seasons seems more and more remote.
"I don't read the newspapers or the Internet, and that's the truth, and I don't watch sports on TV except for games that I need to watch, so I've never seen anything, have no clue about what's being said. I don't worry about things I don't have any control over. I just do my job and what I know is this: We have built a really strong foundation without compromising any values or integrity at Wake Forest University, and there is a very bright future," saod Bzdelik, whose team bowed out of the ACC Tournament on Thursday with a 75-62 loss to Maryland that was in many ways a reflection of the Bzdelik era at Wake in microcosm.
The Demon Deacons controlled the action in the first half and went into the break up 35-30, and were in the game midway through the second half when Maryland took control with defense, holding Wake without a field goal for more than eight minutes in that key stretch.
Wake Forest posted wins over ACC regular-season champion Miami, preseason favorite N.C. State and NCAA Tournament bubble contender Virginia, but on the flip side also had inexplicable losses to the likes of Iona, Nebraska and Seton Hall.
The early struggles with a young team might fade into the background with the improvement shown down the stretch, but the Wake fan base is clearly frustrated and has higher expectations given what happened to Gaudio at the end of his brief, but in retrospect comparatively quite successful, tenure in Winston-Salem.
"This foundation that we've built is rock solid, with terrifi c young men and terrific young players, and there is a bright future," Bzdelik said Thursday. "You know, we have beaten four out of the top six teams in this league. We've lost in numerous close games. As these young men grow up, get bigger and stronger, they're going to turn those close losses into great wins. They really are."

Comments