George Mason falls to William & Mary, 77-70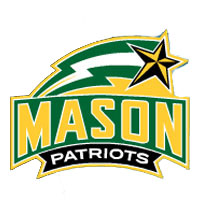 The George Mason University men's basketball team (4-5) dropped a 77-70 contest to William & Mary (6-2) on Wednesday night inside EagleBank Arena.
The Patriots led by 10 (43-33) at the half and by seven (64-57) with 7:08 to go. But Mason could only convert three field goals over the final seven minutes and the Tribe used a 15-4 run to close the game and earn the victory.
"You have to tip your hat to William & Mary – they're a handful to guard," head coach Dave Paulsen said. "We did a really good job in the first half, but then we got content trying to outscore them. That can't be our mindset. We just quite weren't good enough defensively in the second half and hit a cold patch offensively. There wasn't an issue with a lack of effort or focus – they just made more plays than we did down the stretch. We don't have time to feel sorry for ourselves. We have to bounce back tomorrow and try to get better."
William & Mary shot 51.9 percent in the second half (5-9 3pt FG) and held a 44-27 scoring advantage in the stanza. The Tribe came into the game leading the nation in 3-point percentage (.481) and 3-point field goals made per game (12.9). Mason held William & Mary to just eight 3-pointers and a 40.0 percent clip, but the Patriots shot just 18.2 percent (2-11) themselves from long range in the second.
Junior Jaire Grayer paced the Green & Gold with a career-best 24 points (9-19 FG) while chipping in seven rebounds, two assists and two steals in 38 minutes.
Fellow junior Otis Livingston II added 20 points (9-14 FG) and five assists while making 9-of-14 field goal attempts. With his 13th point of the game, he became the fastest Mason player in 18 years to score 1,000 career points. He's the 36th player in program history to reach the 1,000-point plateau.
It's the second time this season Mason has had two players with 20+ points in a game.
Freshman Goanar Mar chipped in 10 points (4-7 FG) and four rebounds in 29 minutes while fellow freshman Javon Greene added seven points (3-6 FG) and a career-best three assists in 26 minutes.
The Patriots made six of their first eight shots and led 17-6 at the 14:11 mark of the first half. A nifty Grayer lay-in off a nice dish from Livingston II extended the lead to 13 (29-16) at the 9:44 mark. A Mar 3-pointer made it 34-18 Patriots, but the Tribe got back within 10 at 34-24. Mason led by that margin (43-33) at the half.
The Patriots posted season highs for a first half in points (43) and field goal percentage (.567).
The Tribe cut the Patriot lead to five (45-40) at the 17:16 mark of the second half, but Mason extended the edge back to 10 (53-43) on a lay-in from Livingston II and got it to 12 at 58-46.
The Tribe used a 7-0 run to cut the lead to five (58-53) and were within two (64-62) with 6:07 to play in the game. Mason led 68-65 with 4:38 left, but the Patriots would not score again until there were seven seconds remaining, as William & Mary made the plays down the stretch to grab the road win in Fairfax.
Mason remains at home to battle MEAC power NC Central on Saturday (Dec. 9) at 4 p.m. The game will be broadcast on the A-10 Digital Network. The Eagles have dominated the MEAC over the past few seasons and have won at least 22 games in four of the past five seasons. During that stretch, NCCU has earned two NCAA Tournament berths and a spot in the 2015 NIT. In a three year stretch from 2012-15, the Eagles posted a 46-2 record in MEAC play. NCCU went 25-9 last season and qualified for the NCAA Tournament.