George Mason edges Lafayette, 67-65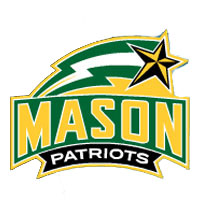 George Mason opened its season in winning fashion, knocking off visiting Lafayette 67-65 on Friday night inside EagleBank Arena.
The Patriots led 38-36 at the half, then went back and forth with the Leopards throughout the second stanza. Mason trailed 63-62 with 2:47 to play, but a big 3-pointer from freshman Goanar Mar pushed the Green & Gold ahead by two (65-63) and two key stops by the Patriots down the stretch clinched the opening night win.
"I give our guys a lot of credit for hanging in there and being tough-minded," head coach Dave Paulsen said. "We got just enough stops to come through in the end. We really fed off the energy of our crowd. They really energized us and it was so great to see the community and so many students out here supporting us. We have a lot of work to do and corrections to make, but it's always nice to teach after a win."
Mason shot 47.3 percent from the floor on the night while limiting the Leopards to a 42.2 percent clip. The Patriots also forced 14 Lafayette turnovers and turned those miscues into a +12 (16-4) edge in points off turnovers.
Junior guard Jaire Grayer led the way for Mason, posting a team-high 17 points (6-11 FG) while grabbing a game-high nine rebounds in 38 minutes of work. Sophomore Justin Kier added career bests in points (15) and steals (4), while junior point guard Otis Livingston II tallied 14 points, six assists and four rebounds.
Mar kicked off his freshman season with a critical 11 points (3-4 3pt FG) and four rebounds in 29 minutes and sophomore Ian Boyd tallied 10 points (5-10 FG), four rebounds and three assists.
After the two teams played to an early 8-8 tie, the Patriots went on a 14-3 run – highlighted by six points from Boyd – to build a 22-11 advantage with14:26 to play in the opening stanza. The run included a stretch in which Mason made five-consecutive field goal attempts.
From there, Lafayette stormed back with a 12-0 spurt to take a 23-22 lead at the 10:43 mark. The Patriots surged in front 32-27 on a lay-in from Boyd and ultimately took a 38-36 lead into halftime.
A jumper from Kier and five-straight points from Grayer put Mason back up by seven (47-40) with 17:08 to play in the game. Livingston's lay-in with 12:57to go kept the Patriots up five (53-48), but back to back triples by the Leopards pushed the visitors ahead 58-56 with 6:42 to play.
Free throws from Kier tied the score at 60 with 3:44 left, but another 3-pointer from Lafayette gave the Leopards a 63-60 edge at the 3:02 mark. From there, a jumper from Grayer moved Mason within one (63-62) and Mar's huge triple put the Patriots ahead 65-63 with 1:51 left.
Lafayette tied it up at 65 (53 seconds left), but Kier drew a foul and hit a pair of big free throws with six seconds left to make it 67-65 Mason. At that point, Livingston II forced a crucial Lafayette turnover on the Leopards final possession and Mason hung on for the victory.
The Green & Gold now hit the road for a marquee non-conference matchup with No. 16 Louisville on Sunday at the KFC Yum! Center. The game will be televised in ACC media markets across the country through the RSN platform. The game also is listed on the WatchESPN app and is available on ESPN streaming platforms (subject to blackout). In addition, Bill Rohland will call the game live on the A-10 Digital Network, with coverage beginning at 1:45 p.m.