Fingerstyle guitarist/composer Michael DeLalla at WTA's Gateway
Published Wednesday, Jun. 26, 2013, 11:40 pm
Filed under
Local/State News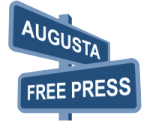 Join AFP's 112,000 followers on
Facebook
,
Twitter
and
YouTube
Connect with AFP editor Chris Graham on
LinkedIn
News tips, press releases, letters to the editor:
augustafreepress2@gmail.com
For advertising inquiries, contact us at
freepress@ntelos.net
.
Called "one of the best acoustic guitarists in the world" by Matt Fink in The All Music Guide, Michael DeLalla will bring his delicious brew of solo guitar compositions and arrangements of traditional tunes gathered from around the world to WTA's Gateway on Friday, June 28. The 8:00 pm performance at 329 West Main will showcase DeLalla's classical training and his jazz, Celtic and folk styling's. It will be more than a concert; it will be "a journey taken together by performer and audience."
For almost three decades guitarist/composer Michael DeLalla has been serving up compositions and arrangements to audience around the world. His fluency on classical, 12-string, and steel-string acoustic guitar demonstrates his gifted improvisation and dazzling technical facility while never sacrificing the richness and poignancy of his compositions. Michael's concert performance is more than a collection of instrumental and vocal works showcasing his particular virtuosity. It is a vivid narrative of his travels and travails found in his varied musical habitats, from a capella kan e diskan in Breton Gaelic, to evocations of Japanese koto music, to tweaking the nose of the classical music world with his raucous "Piece for Steel Drum (If I Played Steel Drum)". The Greenman Review summed up his musical genius by calling him a true "Guitar Guru."
Opening for DeLalla will be Charlottesville-based singer/songwriter and guitarist Blue O'Connell. Profoundly deaf since her late teens, Blue's guitar work exemplifies the influence of some of the outstanding guitarists she has studied with, most notably Robert Fripp & Ralph Towner. Her lyrics show a unique perspective gained from working with writers as diverse and visionary as Beat poet Allen Ginsberg and cartoonist Lynda Barry. Blues voice has been described as a cross between Nanci Griffith and Billie Holiday. Her CD, "Choose the Sky" (released in 2011) received praise from music critics all over the US, UK and Canada who called her music "inventive", "creative", "haunting", "profoundly moving", and "full of grace and inspiration. "
Tickets for Michael DeLalla's performance are available online at www.wtagateway.com or by calling the WTA box office at 540-943-9999. Tickets are $10 in advance and $12 at the door.