Dixie Gas & Oil makes donation to Blue Ridge Area Food Bank
Published Friday, Dec. 27, 2013, 7:56 pm
Join AFP's 112,000 followers on
Facebook
,
Twitter
and
YouTube
Connect with AFP editor Chris Graham on
LinkedIn
News tips, press releases, letters to the editor:
augustafreepress2@gmail.com
For advertising inquiries, contact us at
freepress@ntelos.net
Dixie Gas & Oil Corporation is proud to support the Blue Ridge Area Food Bank through BP's Fueling Communities Program with a grant donation of $1,500.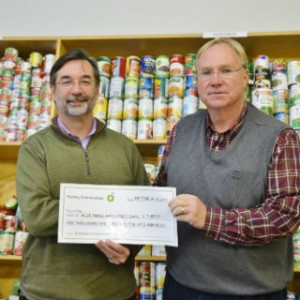 The grant will help the Blue Ridge Area Food Bank alleviate hunger in western and central Virginia.  The Food Bank provides nutritious food to more than 113,000 people each month through a far-reaching network of 234 food pantries, soup kitchens, schools, churches and nonprofit groups.
Michael McKee, chief executive officer of the Blue Ridge Area Food Bank, expressed his appreciation to the BP Fueling Communities Program. "We're deeply grateful for this contribution, as it will help us to provide 6,000 meals to families struggling with hunger. It's reassuring to know that our community is working together to help us solve hunger for thousands of hardworking people in need."
About BP's Fueling Communities Program
The BP Fueling Communities Program provides grants to local organizations that are nominated by BP Branded business owners to support the communities in which they do business.  The grants are given to organizations that focus on health, education, youth, food and housing.
About Dixie Gas & Oil Corporation
Dixie Gas & Oil Corporation has been serving the area's propane and petroleum needs since 1946. Today, Dixie provides propane, heating oil, gasoline, diesel fuel, and lubricants to homes, farms, businesses, and industries throughout the Shenandoah Valley, AlleghanyHighlands, portions of West Virginia, and beyond.