Democrat Ralph Northam elected governor of Virginia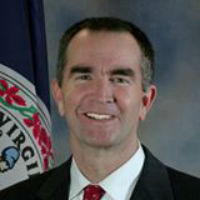 Democrat Ralph Northam rolled to a surprisingly easy victory in what had been a tight governor's race in Virginia Tuesday night.
Northam, the sitting lieutenant governor, was at 53.6 percent of the vote with 93.5 percent of the state's voting precincts reporting at 9:15 p.m. Republican Ed Gillespie was at 45.2 percent, with Libertarian Cliff Hyra at 1.1 percent.
Polls had suggested a much tighter race heading into Election Day. The Real Clear Politics poll of polls had given Northam a slight 3.3-point edge, and after 2016, when Donald Trump had gone into that Election Day as a heavy underdog before gaining the upset win over favorite Hillary Clinton, it seemed that the 2017 election would go deep into the night.
Instead, it was over well before 9 p.m., with the TV networks calling the election for Northam at 8:14 p.m.
Northam headed up another Democratic sweep in the statewide races. Justin Fairfax, the lieutenant governor nominee, had a 4.6-point lead on Republican Jill Vogel, and Democrat Mark Herring, running for a second term as attorney general, had a 5.9-point lead on John Adams.