#3 Fishburne guts out win over Queen City Prep, 82-78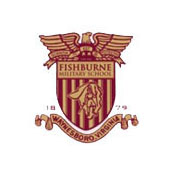 Queen City Prep led for the first 30 minutes, but a gritty effort from the Fishburne Military School ;postgrad basketball team allowed the Caissons to escape on Saturday with an 82-78 win.
It was the third game in four nights for Fishburne (21-5), and it showed early.
"I think we're still feeling the effects of the game with Hargrave (a 109-102 win Wednesday night)," said Zach Lewis (Canisius), who led all scorers with 30 points on 10-of-20 shooting from the field.
"We came out sluggish, but we started executing better, getting better shots, and making shots. And give them credit. They're a good team over there," said Chase Cormier (Grambling), who had 12 points and five assists.
Queen City, led by Cincinnati signee Jamaree Strickland, came out of the gate strong on both ends of the court, streaking to an 18-6 lead at the 12:15 mark as FMS missed nine of its first 11 shots from the field and committed five turnovers.
The Caissons started chipping away at that point, cutting the deficit to two at 37-35 at the half on a jumper by Alassane Kah (Western Kentucky).
Queen City Prep had built the lead back up to eight at 52-44 at the 13;44 mark when Fishburne responded with a 16-4 run over the next four and a half minutes, taking its first lead of the night at 58-56 on a tip dunk by Kah at the 9:31 mark and extending the lead to 60-56 on another Kah dunk at 9:04.
FMS would lead the rest of the way, but it would also be a close affair the rest of the way, with the margin never getting bigger than five points, at 80-75, on a pair of free throws by Lewis with 23.5 seconds left.
After Kuran Iverson (Memphis) rebounded a Naiel Smith miss with 13.5 seconds left, Iverson missed two free throws to keep the door open, and Smith hit a three with 4.9 seconds left cut the margin to 80-78, maintaining the late-game drama.
Lewis then sank both ends of a two-shot foul with 4.2 seconds to go to ice the game.
"I'm proud of my team. We competed all night long. We started the game slow, but we competed, and we were able to grind it out," FMS coach Ed Huckaby said.
Fishburne shot 43 percent from the field, made just six of its 22 attempts from three-point range and was a pedestrian 22-of-34 from the foul line.
"Free-throw shooting killed us all night," Huckaby said. "That's something that we've got to address. You can't leave that many points on the line against a good team like Queen City Prep. They make you pay."

Comments